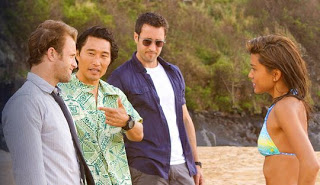 When ABC's television program, "Lost," was on the air, it was fun to take a Hawaii timeshare vacation and check out the local spots that were used for the location shooting of the series.
For the last 6 years, Oahu's economy had also seen the benefits of filming the hit series "Lost" on the island, which brought in millions of dollars in various affiliated businesses, including catering, lodging, car and equipment rentals, TV extras, and various manual labor jobs.
Unfortunately for everyone filming of the extremely popular "Lost" came to an end in early 2010. But now – enter the new "Hawaii 5-0" television show, premiering this month on CBS. And guess what – this show will also be filmed on location on Oahu. "Hawaii 5-0 is again great news for Oahu's economy," stated a spokesperson.
Loosely based on the long running Hawaii Five-O TV show that aired from 1968 to 1980, this updated CBS program has the same characters and locale, but a different story premise, and edgier action and special effects. The 2010 show stars Alex O'Loughlin as Steve McGarrett and, interestingly, "Lost" cast member Daniel Dae Kim as Chin Ho. The cast also includes Scott Caan from "Oceans Eleven" as detective Danny Williams, and actress Jean Smart ("Designing Women") as Gov. Pat Jameson.
Unlike the original series, the new "Hawaii 5-0" is being shot on an Oahu that now has a strong film industry infrastructure, including a sound stage in Honolulu. This makes it easier to maintain a one hundred percent "on location" production for the new series.
The presence of the film crew and the cast will be seen all over Oahu, and sometimes on the other islands, as well. Scenes for the very first episode of the series were filmed at the Hilton Hawaiian Village on Waikiki. This is a good resort from which to rent a budget timeshare and start your "Hawaii 5-0" location scouting. Other locations that have already been used include Punchbowl Cemetery, Iolani Palace, up and down Waikiki Beach, and numerous locations in downtown Honolulu.
As you wonder around Oahu keep a sharp eye out and you very well could stumble upon a scene being filmed. There will also be various internet sites posting scheduled film locations. Or take advantage of Oahu's "Circle Island Tours" company which offers opportunities to see the locations used in this, and many other television shows and movies, including Elvis Presley's "Blue Hawaii."
The fun and excitement of Hollywood mixed with your Oahu timeshare rental vacation is back!
(Photo credit cbs.com)