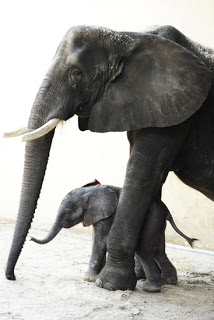 Renting a Disney timeshare in Orlando, Florida, gives you access to a world of exciting fun and entertainment through out all of Disney's Orlando theme parks. But did you know that Disney has its serious side, too? At Disney's Animal Kingdom, conservation efforts are underway and September 22 marked "Elephant Appreciation Day".
These majestic, intelligent and endlessly fascinating animals are a joy to see, but continue to need everyone's help to increase their numbers and remove them from the endangered species list, and Disney is doing its part. Disney's Animal Kingdom is part of a breeding program coordinated by the Association of Zoos and Aquariums that is focused on sustaining the elephant population in North America. In addition, the Disney Worldwide Conservation Fund and the Disney Foundation have directed over $1 million to projects in 20 countries to help protect and conserve elephants.
Disney's 500-acre Animal Kingdom is the first theme park built entirely around animal conservation. It's also built, of course, for the enjoyment of Disney's guests, and while you're here you'll have a ball; and plan on an entire day – you'll need it.
The Kilimanjaro Safaris ride gives you the experience of an open-air safari through the savanna of East Africa. Along with some fun surprises, you'll also get to see amazing African animals, including giraffes, rhinos, and wildebeests. It's on the safari ride that you'll also see the African elephant herd, which currently is made up of thirteen members – five males and eight females. Keep an eye out for the babies. The newest is Luna (see photo), born in May, 2010 – she weighed in at a healthy 288 pounds!
Four other elephant babies have been born over the past several years at Disney's Animal Kingdom. They include girls Nadirah and Kianga, and boys Tufani and Tsavo. The oldest is just 9, so you'll see several "kids" romping through the savanna!
If you missed Elephant Appreciation Day this year, make your plans now to rent a timeshare and join in the celebration next September. There are lots of fun extra activities on that day at Rafiki's Planet Watch. For example, you'll be able to try your "hand" at using your own elephant trunk to pick up food items, and the kids can color an elephant mask to take home. You'll also get a chance to talk with members of the elephant team themselves.
An Orlando timeshare rental and a visit with the wonderful elephants of the African savanna – what a great combination!
(Photo credit disneyparks.disney.go.com)