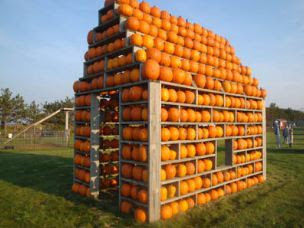 One of the most beautiful places in America when covered with glorious fall foliage is Wisconsin. Rent a Wisconsin Dells timeshare and experience the heady autumn colors yourself. Part 4 of our 5-part series on finding the perfect pumpkin patch for your timeshare rental autumn vacation spotlights this amazing state.
Country Bumpkin Farm Market
Located right in Wisconsin Dells you'll be met by official greeter, black lab Duke. This "furry pumpkin picker" says the sugar pie pumpkins are the best to munch on out in the patch. Here you'll get a hayride straight out to the pumpkin patch where you can pick your own perfect pumpkin. You'll be astounded at the variety of pumpkins grown here, from Freaky Pumpkins, to Cinderella Pumpkins, to giants that weigh in at almost 200 pounds. You'll also have a real corn maze to get lost in.

Be sure to try their own honey, and local maple syrup and sorghum. A real treat for your timeshare breakfast is the local farm fresh brown eggs available for purchase here. You can also find many fall ornamental products such as gourds and colorful broom corn and Indian corn. Real hand-made corn shock bundles and hay bales are also available.

Green Thumb Farms
Just a hop and a skip down the road, in Prairie du Sac, this is Pumpkin Land Adventure (see photo). Not only can you choose your own perfect pumpkin but you can shake hands with Zombie Homeboyz and Girlz as you do it! There's a hay bale maze for the little ones and a corn maze for the adults. Tom Sawyer's Fort has a tube slide, and kids 8 and younger can have fun on the Heavy Duty Trike Track.

Special events include feeding the Pumpkin Eating Dinosaur, and watching the Ultimate Pumpkin Launcher competition. Last year they were launching pumpkins over 500 feet. Other activities include horse-drawn hay rides, tractor-pulled hay rides, wagon rides, honey from hives on the farm, maple syrup from trees on the farm, and prepicked produce. The youngsters will enjoy the face painting, the petting zoo, and getting to feed the farm animals.

There is a lovely picnic area where you're invited to bring a picnic packed from your timeshare kitchen. For dessert try your hand at swirling caramel apples at the Caramel Making Station, using apples grown right on the property. While you relax under the covered pavilion and listen to the Ghoulish Animated Band, your youngsters can ride the tractor powered Barrel Train around the park.
Autumn in Wisconsin is really spectacular, and when you add all of this fun you just might make a Wisconsin timeshare rental vacation a family fall tradition.
Read Part 1 – Find the Perfect Pumpkin at Your Arizona Timeshare
Read Part 2 – Vermont Fun and Fall Fun in the Pumpkin Patch
Read Part 3 – Halloween Fun Near California Timeshares
Read Part 5 – Oahu Timeshares and the Hawaii Pumpkin Patch
(Photo credit gtfarms.com)