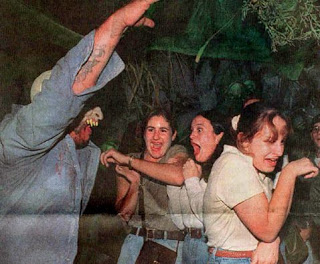 Can you imagine a better timeshare rental destination for Halloween than the beautiful, mysterious city of New Orleans? Halloween is a season that fully takes over New Orleans, with costumed fun, spooktacular social happenings, and hauntings – both real and make-believe.
To start with, local author Anne Rice created a vampire legend that New Orleans has embraced. The Louisiana Area Vampire Association, among other vampire organizations, holds wickedly wonderful vampire balls during Halloween. And the annual Voodoo Music Festival, held in City Park, attracts well-known performers. Or head to Jackson Square after dark, where you'll encounter fortune-tellers, mystics, and a voodoo priestess or two.
As an adult Halloween visitor, a must-see place for you is Bourbon Street in the French Quarter. Here you can find boutiques offering a variety of Halloween costumes. Then return at night to show off your creation in the wonderful mêlée of hundreds of other costumed revelers.
Also for adults only – and teens of course – the Mortuary Haunted House on Canal Street is where to go if you really want to be scared out of your wits. Realistic and gory special effects, along with frighteningly talented actors, combine to make this one of the most popular Halloween haunted houses in New Orleans. But there's a twist. This used to be a real mortuary. The basement that used to house the embalming room has been certified by paranormal investigators to be inhabited by several real ghosts. During the Halloween haunted house the ghost of a teen-aged boy is frequently seen darting among the visitors, apparently enjoying the festivities.
Another popular New Orleans haunted house is The House of Shock (see photo) – which has its own twist. Pyrotechnics and live music combine to make this experience so frightening you may find yourself running for your life.
There are many kid-friendly Halloween activities in New Orleans, too. The Halloween parade is fun for all ages, and you'll see plenty of floats, marching bands, and costumed participants, all tossing beads and trick-or-treat candy. This parade is a production of Blaine Kern Sr., known widely as "Mr. Mardi Gras," so the floats are spectacular. Following the parade will be the "Monster Bash" at Blaine Kern's Mardi Gras World.
A Halloween party just for kids is Ghosts in the Oaks. Held as a fundraiser to help repair the damage done to the city park by Hurricane Katrina, this lively party offers your youngsters exciting entertainment including spooky music, Halloween-themed food, and not-so-scary rides.
So if you're looking for that special Halloween thrill of shivers running down your spine – a New Orleans timeshare rental will give your entire family a truly spooktacular time.
(Photo credit houseofshock.com)