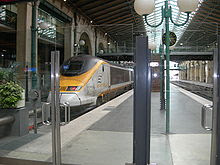 Have you been thinking about a vacation to London, or maybe Paris, but are not sure which location to rent a timeshare? What if you could get a London timeshare rental and still easily explore the Eiffel Tower in Paris on the same vacation?
Can you imagine London and Paris being "day trips" from each other? It was just announced that a new train is being commissioned between London and Paris that will make the trip in just over two hours. Unbelievable but true. It will travel at 320 kph, which translates to 198.9 mph.
Eurostar, the high-speed passenger rail service that connects England and France, is building not only faster trains, but also fancier ones. The new trains will be roomier, and offer Wi-Fi art and music services, and video, on demand. The interior of the new trains will be built by the Italian design firm Pininfarina, famous for its work with Ferrari and Maserati.
So, in wonderful comfort you can step out of your London timeshare and whiz over to Paris, spend a delightful day hob-nobbing with Parisians, and be home and tucked into your timeshare bed at a proper English time. Or, rent a Paris timeshare instead and head to London for the day. Tour the Tower, view the glittering Crown Jewels, and be back in Paris in time for dinner.
The truth of the matter is – you can do that now. Eurostar's current high-speed trains will get you from one city to the other in 2 hours and 15 minutes. Since Eurostar launched operations in 1994, when the Chunnel – the tunnel under the English Channel – was opened, it has carried more passengers between London and Paris than all airlines combined. The convenience and speed of service, along with shorter check-in times, quicker boarding, and high punctuality, all have created a huge demand for high-speed rail service, which also have a good safety record.
Happily for timeshare rental vacationers, Eurostar is actually going to be getting some competition. Deutsche Bahn is starting trial runs for a future Frankfort-London route. And Trenitalia has announced plans to eventually run high-speed trains from Italy to the United Kingdom. So, browse RedWeek.com for more European rentals and timeshare exchanges and start planning your next vacation to some exciting destinations you've always dreamed of visiting.
(Photo credit wikipedia.com)