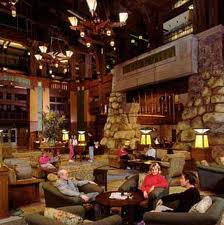 The Villas at Disney's Grand Californian Hotel recently sold out of all available vacation ownership inventory, it was announced this week. The Disneyland resort, in Anaheim, CA, is Disney Vacation Club's first venture to the West Coast and the Disneyland Resort.
"We are very pleased with the success of our first West Coast resort," said Disney Vacation Club President Jim Lewis. "Families have enjoyed visiting the Disneyland Resort for decades and Disney Vacation Club members who own at The Villas at Disney's Grand Californian Hotel will enjoy the savings for decades to come."
The Grand Californian architecture is based on the Arts and Crafts movement of the early 1900s. The interior design is inspired by the National Parks Service lodges of the western United States, with a lobby that features an oversized fireplace hearth, lofty ceilings and sweeping crossbeams. The Napa Rose restaurant, inspired by California Wine Country cuisine, is an acclaimed restaurant that boasts a collection of award-winning vintages and has been rated #1 in the Zagat survey for 4 years running.
The Villas at Disney's Grand Californian Hotel & Spa opened in September 2009 as the first stage of Disney Vacation Club's extension into the west. Designed as part of an expansion of the existing hotel, the 50 2-bedroom Villas offer members and guests a variety of Disney Vacation Club amenities, such as kitchens, living and dining areas, and other home-like amenities.
Many of the Grand Californian villas overlook Disney California Adventure Park, where a major transformation is taking place. This summer saw the debut of "Summer Nightastic" and "World of Color," utilizing the world's largest waterscreen. The Little Mermaid ~ Ariel's Undersea Adventure will premier in 2011, and the summer of 2012 will see the opening of the widely anticipated Cars Land, a 12-acre expansion inspired by the Disney-Pixar blockbuster "Cars." From the villas at the Grand Californian, members of Disney Vacation Club will be able to experience these exciting changes firsthand over the coming years, said a Disney spokesperson.
(Photo credit: travelandleisure.com)
Categorized in: Disney timeshares, Disney Vacation Club, Villas at Disney's Grand Californian