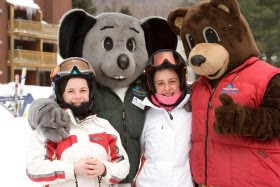 Are you looking for a great timeshare rental destination for your family ski vacation? Well, consider this: Smugglers' Notch Resort in Vermont has been listed as #1 for Family Programs in North America by members of SKI Magazine – for the twelfth year in a row.
"We are thrilled to again receive this recognition," said Bill Stritzler, Smugglers' Notch owner and managing director. "Years ago we focused our mission on being the best resort for family fun, anywhere. Responding to families' vacation interests and recreational needs is the cornerstone of our operations here at Smugglers, enhanced by the careful attention our employees pay to customer service."
"We're famous for our children's ski and snowboard programs," continued Stritzler. "We inspire your children to learn. We encourage them to improve. We build their confidence. We group your children by age and ability, so they can make new friends while they learn. And we challenge them to explore the mountain, and their limits, to be smart and safe, and, most importantly, to have fun."
Further emphasizing the resort's appeal to vacationing families, Smugglers' Notch received top 10 ranking among Eastern resorts in the categories of overall satisfaction, value, lodging, off-hill activities and service. The resort also received top 10 recognition for the challenge and variety of its terrain. The three mountains and 78 trails feature 1000 acres of terrain for all abilities, from the novice skiers and riders enjoying Morse Mountain's gentle runs to the extreme experts taking on Madonna Mountain's gnarly double and triple black diamond Fab Five trails.
Located in the heart of the Green Mountains of northern Vermont, Smugglers' Notch resort offers exceptional family fun year round. With timeshare rentals starting at just $107/night, deciding to vacation at this remarkable resort is easy. In the summer there's fishing, kayaking, camp outs for the kids, horseback riding, and campfire sing-alongs. In the fall you have a front-row seat to the extraordinary experience of Vermont's fall foliage. And in the winter – well, its considered #1.
A bonus to renting a timeshare at "Smugg's" is its convenient location. You'll have a perfect "hub" for day trip sight-seeing. You are just outside the charming village of Stowe; it's just a half hour to Burlington, the shores of Lake Champlain, and the Church Street Marketplace; and a two-hour drive through beautiful scenery will get you to Montreal, Canada, no less.
For a wonderful all-round, year-round, family-friendly timeshare vacation, take a good look at Smugglers' Notch resort.
(Photo credit – onthesnow.com)
Categorized in: family programs, Smuggler's Notch timeshare, timeshare rental