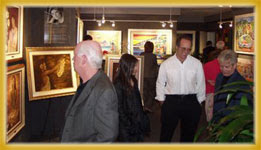 Oahu is full of tourist attractions and events that can fill your days with delight, wonder, and fun. And as an Oahu timeshare vacationer you deserve to enjoy everything this island has to offer its visitors. But here's a secret – follow the locals for what to do in the evenings.
Honolulu has a population of almost 400,000. Add to that the people living and working in the other towns around the island, and that adds up to a lot of local expertise. After a long work week, where do the locals head for Friday night fun?
The answer is Downtown Honolulu. The daytime business and financial district of busy Honolulu, Hawaii's capital city, transform after dark into what is officially known as Hawaii's Arts District.
On the first Friday of each month this downtown area becomes one big block party (see photo). The spirited social scene overflows into the art galleries, shops, and fabulous eateries that all stay open late for this fun crowd. You can even take the Downtown-Chinatown Gallery Walk, a self-guided tour of the rotating exhibits of the area's art galleries and studios.
A quieter-paced version of First Fridays is Slow Art Fridays, held on the 3rd Friday of every month. You'll enjoy all of the same art and culinary delights, but with a mellower atmosphere.
Other great night-time entertainment includes The Venue, a brand-new nightclub that offers everything from traditional Hawaiian music to comedy improv. The Nextdoor Cinema Lounge and Concert Hall is a lively nightclub that is both a cinema house and a dance club. It's here you'll find some of the very best in local and international talent.
The Hawaii Theater is actually in Chinatown, and offers eclectic entertainment from Broadway shows to Hawaiian musical concerts. Housed in its original 1922 historical building, the beautiful Hawaii Theater is known as the "Pride of the Pacific." For Halloween 2010 the Hawaii Theater is presenting "The Silent Scream." Its 2010 Christmas offering is "A Cazimero Christmas."
While out on your night on the town be sure to avail yourself of Honolulu's many acclaimed restaurants. Choose the East-West delicacies of Hoku's, the elegant use of local produce and seafood at Orchid's, or the exciting fusion cuisine at Roy Yamaguchi's flagship Roy's Restaurant.
Downtown Honolulu is easy to get to from just about anywhere on Oahu where you might be renting your timeshare – just hop aboard the island's award-winning public transportation system, The Bus. That's what the locals do!
(Photo credit – firstfridayhawaii.com)
Categorized in: hawaii vacation, Honolulu things to do, oahu timeshares