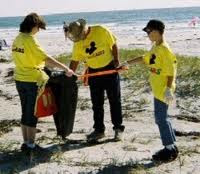 Disney VoluntEARS give back to the community. The employees of the many diverse Disney companies, including ABC Television, Radio Disney, The Disney Store, ESPN Zone, and Disney on Ice, as well as all of the resorts and Disney Vacation Club, give back to their local communities through volunteerism. Disney VoluntEAR Committees have been formed in Atlanta, Chicago, Miami, San Francisco, Seattle, Toronto, and Washington, D.C.
The Committees get together regularly to identify and meet the volunteer needs of charities in their local communities. The grassroots efforts of these regional Disney VoluntEARS build upon a tradition of cast members giving back to charities they are passionate about supporting.
Additionally, Disney VoluntEARS lend a helping hand whenever a DisneyHand philanthropic event comes to their town. These special events include the DisneyHand Reading Together with Belle tour which visited twelve cities nationwide, and Season of Compassion events which includes Disney Characters visiting hospitals bringing armfuls of goodies for the children.
The projects are many and diverse. For example:
Miami
Disney VoluntEARS partnered with Disney On Ice to host 500 children from Amigos Together for Kids for a complimentary performance. To enhance their "magical" experience, each child also received their very own Mickey binoculars.
Chicago
Disney VoluntEARS teamed up to make a difference in the lives of children who were in need of new school supplies. They collected school supplies for a number of weeks and were able to fill 100 Disney back packs with many different items including rulers, notepads, and calculators.
Seattle
VoluntEARS participated in the Day of Caring by building a new playground for the Islamic School of Seattle. In a day's time they were able to turn a desolate, debris filled yard into an inviting and fun-filled place for children to play.
San Francisco
Disney VoluntEARS participated in the National Coastal Clean-Up Day (see photo) by coming out to clear debris and pick-up trash along the beaches. The VoluntEARS worked hard to clean the space of waste and make it a beautiful place for visitors and locals to enjoy.
Washington, D.C.
Disney VoluntEARS pitched in to help staff the Ducky Derby event, a benefit for Hadley's Park, an organization that helps communities build Universally Accessible Playgrounds that allow children of all abilities to play and have fun.
The Disney VoluntEAR Program is one more way that the Disney company works toward its commitment of supporting the earth's environment, wildlife, and people.
(Photo credit – wdwpublicaffairs.com)
Categorized in: Disney Vacation Club, Disney VoluntEARS