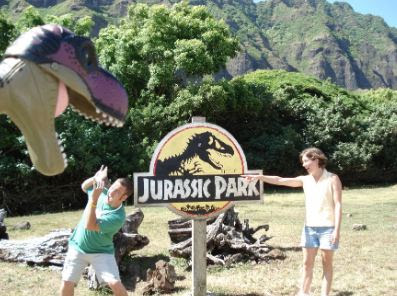 Now that you know about renting a timeshare, and how that is an affordable way for budget-minded travelers to take a dream vacation, you'll be headed to Hawaii one of these days. From watching hula dancers to enjoying spectacular sunsets, from snorkeling to hiking around waterfalls, there are plenty of traditional ways to enjoy Hawaii.
And then you might want to stir things up with a bit of pizzazz by indulging in some movie magic. Many movies and TV shows have had scenes filmed in the Hawaiian islands. From your timeshare rental on Oahu you can set out to discover some of the sites on your own.
For example, in "50 First Dates" Adam Sandler's character worked at Sea Life Park at Makapuu. The movie's infamous Hukilau Café, where Drew Barrymore built waffle houses every morning, doesn't really exist, but you can visit the original Hukilau Café, a local favorite in the little town of Laie, where you can sample popular dishes such as Loco Moco, and the Hukilau Burger.
The Halona Beach Cove, on the east side of Oahu, was made world famous in a sultry scene between Burt Lancaster and Deborah Kerr in the 1953 classic "From Here to Eternity."
Many movies, including "Jurassic Park," "Godzilla," and "Pearl Harbor," took advantage of the lush tropical terrain and sweeping ocean vistas on the Kualoa Ranch, Oahu's only working cattle ranch. Scenes from TV shows were filmed here, as well, including "Magnum P.I.," "Fantasy Island," and "Lost."
The Kualoa Ranch offers the fun "Movie Sites and Ranch Tour," which introduces you to filming locations across this ranch. Also included in the tour is a visit to a WWII defense gun bunker, Cooper Battery, which has been turned into a movie museum. While visiting the Kualoa Ranch you can also enjoy such activities as horseback riding, ATV rides, and jungle excursions.
For hardcore "Lost" fans, the KOS tour company on Oahu offers "Hummer Movie Location Tours," with a special tour dedicated to the many locations all across the island where this popular television show was filmed.
"Magnum P.I." also filmed in places such as the Waialae Beach Park and Kapiolani Community College. The classic opening shots for the original Hawaii Five-O show included the balcony scene at the Ilikai Hotel, and the National Military Cemetery of the Pacific, known more popularly as Punchbowl. Jack Lord, star of that Hawaii Five-O series, lived on Oahu and frequented the Kahala Mall, where you can now see a bronze bust of Lord.
The new CBS "Hawaii 5-0" series, which premiered in September 2010, is now filming all across Oahu.
(Photo credit – hummertourshawaii.com)
Categorized in: movies made in Hawaii, oahu timeshares, timeshare rental