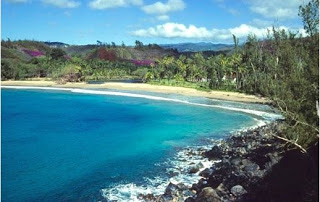 Did you know that planning a Kauai timeshare rental vacation on Hawaii's "Garden Island" can get you up close and personal to the movies?
The lush tropical landscape and spectacular beaches of Kauai have had starring roles in movies and TV shows for years. They have stood in for Central and South America, Africa, Australia, Asia, and, of course, the South Pacific. Oh, and for plenty of fantasy worlds, too.
Perhaps one of Kauai's most famous – and most appropriate – roles was as the backdrop for Rogers and Hammerstein's soaring musical, "South Pacific." Elvis Presley crooned his love songs here for "Blue Hawaii." The romantic comedy "Six Days, Seven Nights," turned Kauai into French Polynesia.
Adventure movies such as "Uncommon Valor," "Outbreak," "Jurassic Park," and "Raiders of the Lost Ark," all took advantage of Kauai's exotic jungle appearance. And the biggest movie of all time, "Avatar," turned Kauai into its own particular fantasy land.
Many television shows have filmed scenes on Kauai. The island became Australia for the TV mini series "The Thorn Birds," and became a "desert isle" for "Gilligan's Island." The island also proudly stood in for itself for some scenes in "Magnum, P.I."
Kauai is a real filmmaker's paradise, and an exciting place for fans, as well. The Theater-On-Wheels® tour company will take you to the film sites of these and many other legendary Hollywood movie and television shows. This tour company is also the only one with access to the Coco Palms Resort – long ago closed, but that was the filming location for scenes from "Blue Hawaii," classic movies such as "Pagan Love Song" with Esther Williams, and many Fantasy Island scenes.
Besides seeing the very locations used in filming, you'll also learn "fascinating inside details of the stars and what they did when they were here." And you can join in the show tune sing-along as you enjoy a delicious picnic lunch on the beach.
(Photo credit – discoveringhawaii.com)
Categorized in: Kauai movie locations, kauai timeshares, timeshare vacation