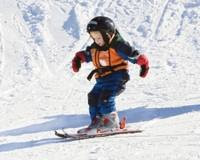 Did you know that Smugglers' Notch family resort in northern Vermont is a premier ski resort destination? And if you're looking for a timeshare rental where the entire family can enjoy winter snow activities together, look no further. Smugglers' Notch offers award-winning children's programs, lessons, and activities for all ages.
Smugglers' Notch Snow Sports University is open December 10, 2010 to April 3, 2011. All-day children's camps for skiing and snowboarding instruction start at age 3 for young skiers and riders. Full-day camps for kids ages 3-15 include on-mountain instruction, lunch, entertainment and exploration programs. An innovative program based in Smugglers' Treasures Child Care Center introduces 2 ½ year olds to skiing with fun age-appropriate instruction techniques.
Operations Director Harley Johnson and Treasures Child Care Center Director Shelly Schafer have put together three videos to prepare parents and kids to learn snow sports, and to enjoy the process. The videos cover pre-season preparation, how to dress for winter, and what will happen in class. "They take away the mystery, and let kids focus on the fun of learning," explains Schafer.
In addition, Smugglers' Notch resort is able to offer all students in Snow Sport University ski and snowboard camps a way to capture their on-mountain fun. The kids will be outfitted with Flaik GPS units that will track the miles, vertical and trails skied each day and cumulatively. Après ski they can log on to review the data with friends and family to share their total on-mountain experience and plan exciting adventures for the next day. Adults in the Mountain Experience Camp will be able to use Flaik technology during their ski day, as well.
"We Guarantee Family Fun at Snow Sport University!" exudes Director Harley Johnson. "Smugglers' is committed to providing a fun-filled vacation. Our many years in the family vacation business, our excellent and well-trained staff, fabulous facilities and programs are the backbone we justifiably rely on for our Family Fun."
A ski vacation, a family vacation, and a timeshare vacation – it all comes together at exciting Smugglers' Notch Resort.
(Photo credit – thefamilytravelfiles.com)
Categorized in: family vacation, Smuggler's Notch timeshare, timeshare rental