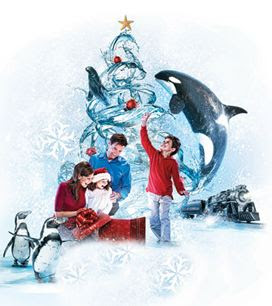 Much is made of the Christmas extravaganza that awaits adults and children alike at Walt Disney World each year. And rightly so, of course. But remember that there are other places in Orlando where you can enjoy spectacular Christmas activities as well. Rent an Orlando timeshare, and check out these 5 fun Christmas activities at SeaWorld.
Polar Express
SeaWorld's showcase Christmas event is based on the hit movie of the same name. SeaWorld and Warner Brothers created a one-of-a-kind motion simulation experience that combines this beloved holiday movie with an actual winter wonderland. "The result," says Michael Fletcher, vice president of entertainment for SeaWorld, "completely immerse guests into a thrilling combination of fantasy and reality."

When you arrive at your destination, you'll step off the train into the movie itself. Temperatures drop as you and your fellow travelers arrive at the frozen North Pole, complete with a towering Christmas tree, gift-laden sleigh, village décor and Santa himself. As the journey continues you'll also encounter other inhabitants of the North Pole – the animals themselves – including beluga whales, polar bears and walruses.

Shamu Christmas
You can join Shamu for the holidays with "Shamu Christmas…Miracles." The 22-minute production comes to life daily through December 25 at Shamu Stadium.
Fountain Show
Here you'll also witness winter wonder as snow flurries descend from above, and where water literally dances to the beat of Christmas music during the "Christmastide" holiday fountain show through December 25.
Mistify
This nighttime finale December 26 – 30, takes place on SeaWorld's center lake and features larger-than-life marine creatures on 60-foot mist screens, 100-foot fountains, flames on water and dazzling fireworks.
Christmas Luau
Too much "cold" for you? The winter season warms up South Seas-style at "Makahiki Christmas Luau." This celebration includes succulent island cuisine served with the ancient holiday traditions of the Pacific Islands. The sounds of Christmas are reinterpreted with authentic Polynesian rhythms, music and dancers through January 1st (except Christmas Day).
(Photo credit – seaworld.com)
Categorized in: Christmas vacation, Orlando timeshare, rent a timeshare, sea world orlando