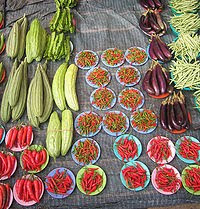 Do you have special dietary needs that you must deal with when you go on vacation? Perhaps you are among the many people who have food allergies these days, and find that eating organic foods is a safer way of going. If you're planning a trip to Walt Disney World, there is some good news.
First of all, renting a timeshare at one of the Disney resorts, or in Orlando, will go a long way toward helping you cope with your dietary needs. Not only will you find a timeshare rental to be budget-friendly, but you'll have a full-sized, fully-equipped kitchen for your use. What easier way is there to cook healthy meals with organic produce while you're on vacation than to have your own fully equipped kitchen?
Chris, who writes for Everything Walt Disney World, set out to discover just how one would be able to eat organically while visiting the Orlando Disney theme parks. If you're lucky enough to be doing your own menu planning and meal preparation in a timeshare rental, Chris offers these suggestions on where you can purchase organic produce with which to stock your timeshare kitchen:
You can find milk and other organic foods at Super Target, which has the lowest prices in the area, says Chris. There are several within a few minutes of Disney property.
A Whole Foods store only 15 minutes from Disney property has the widest selection of organic produce, dairy, and free-range meats, according to Chris. They also have a wide selection of gluten-free products. If you prefer a natural foods market, you might want to look into Chamberlin's, which has several locations in and around Orlando.
If you won't have a car, Chris suggests that you might want to try WeGoShop, which offers a shopping service and will go to the stores you specify.
Organic foods are cropping up on Disney property, says Chris, sometimes in the strangest places. For example, you'll find a Bloody Mary made with organic vodka on the menu at The Wave Restaurant in Disney's Contemporary Resort, where they also serve organic beer and wine.
One area where chefs are beginning to make good use of organic foods is in Disney's signature restaurants. Following the nationwide trend in telling diners where their food comes from and how it was grown or raised, you'll frequently find references to "free-range," "organic," and "hormone-free" on these menus. Disney's signature restaurants include Victoria and Albert's, and Citrico's, both in the Grand Floridian; The Hollywood Brown Derby Restaurant in Disney's Hollywood Studios theme park; and the California Grill in Disney's Contemporary Resort. All of Disney's signature restaurants are happy to assist you with special dietary needs if you notify them at the time you make your reservation.
(Photo credit – en.wikipedia.org)
Categorized in: dietary needs while traveling, Disney timeshare, family travel, organic food, special diet