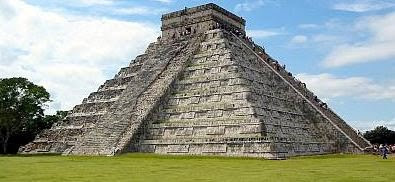 With blizzards hitting on all sides, this winter is continuing to be one for the record books. Winter has just started and you're probably already tired of snow and cold. So don't wait another moment – rent a timeshare and head to Cancun, Mexico.
Along Mexico's Yucatan Peninsula the weather is balmy, the turquoise Caribbean waters are warm, and the sand is soft. What better remedy for a freezing winter than a Cancun thaw?
You may already know that the Yucatan Peninsula is one of the foremost destinations in the world for a perfect beach vacation. You may also know that there is great nightlife here. But did you know that this is the gateway to one of the New 7 Wonders of the World?
The Mayan Ruins at Chichen Itza, with its great pyramid, were voted by global participation to be on the revised list of the 7 Wonders of the World. Located in the northern end of the Yucatan Peninsula, visiting this fascinating ancient site is an easy day trip from your Cancun, Playa del Carmen, or Cozumel timeshare rental.
The city of Chichen Itza began rising to regional prominence around 600 AD and reached its height as the Mayan capital around 980 AD. The area offers numerous and fascinating ruins to explore, including the Temple of a Thousand Warriors, a steam bath, and the Observatory where the ancient Mayans constructed their remarkably accurate calendar.
The Ball Court, with its 40-ft high walls, is the largest ball court of the ancient Mayan world. There are several temples built into the Ball Court walls, including the Temples of the Jaguar. The acoustics in the ball court are such that a word spoken in a low voice at one end of the field can be heard distinctly at the other end almost 150 yards away.
The centerpiece of the Chichen Itza ruins is the great pyramid that is actually the Temple of Kukulcan, or also called El Castillo (the castle). Built with 91 steps on each of the four sides leading to the top, and with the one final step at the apex, the number of steps (365) matches the 365 days of our modern calendar. The pyramid has also been designed in such a way that on the Spring and Autumn equinox at the rising and setting of the sun, the corner of the structure casts a shadow in the shape of a plumed serpent – Kukulcan, or Quetzalcoatl – along the west side of the north staircase.
Chichen Itza, named a World Heritage Site, is truly a remarkable site to visit and explore, and one not to be missed on your Mexican winter getaway vacation.
(Photo credit – chichenitza.com)
Categorized in: Cancun timeshares, Cozumel timeshare, Playa Del Carmen timeshare, rent a timeshare, winter vacation