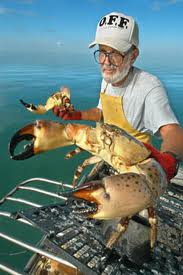 As if the lure of warm temperatures, soft sand beaches, and crystal blue waters isn't enough to get you packing for a winter timeshare rental vacation in Florida, the Sunshine State has just released its list of Food Festivals that will be taking place during the first three months of 2011. They're happening all over the state and great timeshare rentals are available in each place.
Key West: 6th Annual Florida Keys Seafood Festival
The festival's purpose (see photo) is to raise money for the fishing industry, to showcase the great local seafood harvested by the commercial fishermen of the Keys, to provide scholarships to college-bound children of commercial fishermen, and to celebrate the community. January 15, 2011.
Vero Beach: Indian River Nautical Seafood Festival
Includes 400 Nautical and Marine Vendors, Boats, Boat Auction, Seafood, Music Fest. Antique Boat Show and Competition. Workshops and Demonstrations. Original Nautical and Marine Art and Arts and Crafts. January 15-16, 2011.
Naples: Naples Winter Wine Festival
This food festival brings many of the world's finest vintners and chefs together with wine collectors and philanthropists for a three-day gala. Benefits at-risk and underprivileged children. January 28-30, 2011.
Palm Beach and Miami: Simply Italian
Commemorating the ninth year of the best Italian wine trade tasting event, the Simply Italian – Great Wines US Tour, has assembled Italy's most prestigious wineries under one roof. This spectacular showcase highlights producers from various Italian regions including Tuscany, Piedmont, Sicily, Marches, and Veneto. February 1, 2 2011.
Fort Lauderdale: 4th Annual American Fine Wine Competition Gala Dinner
The dinner benefits the Diabetes Research Institute. The night's festivities include a Sparkling Reception, a silent and live auction and a sit down, four course gourmet dinner. Six hundred of the finest wines from around the USA will be poured throughout the night, and bottles signed by the winemakers will be part of the silent auction. February 12, 2011.
Orlando: The Festival of Chocolate
Attendees will receive yummy tastings and sales of gourmet chocolate. The festival includes a "Kids-4-Chocolate" creative workshop with chocolate crafts; demonstrations by award-winning pastry chefs; and an educational chocolate museum. March 5-6, 2011.
Coral Gables: St. Patrick's Day Celebration
Enjoy great Irish Food: corn beef and cabbage, authentic Irish soda bread; Irish Crafts: a created by high quality vendors; Fun For The Kids: clowns, face painting, playground, giant slide, rock climbing; Irish entertainment: Celtic dancers, Irish singers, bagpipe band and more. March 12, 2011.
As you can see, there's a beach and a food festival to meet everyone's taste, and you'll be able to find many great Florida timeshare rentals made to order on RedWeek.com.
(Photo credit – floridakeystreasures.com)
Categorized in: Florida timeshares, Orlando timeshare, Vero Beach timeshares