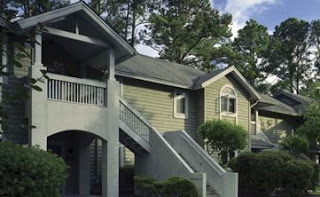 If you're looking for a perfect winter getaway, look no further than the Island Links Resort on Hilton Head Island in South Carolina. Hilton Head Island features 12 miles of beachfront on the Atlantic Ocean, and the Island Links Resort takes advantage of this popular destination to give you the opportunity for a wonderful timeshare rental vacation.
The Island Links Resort offers spacious two-and three-bedroom condominium-villas complete with air-conditioning and private Jacuzzi hot tub, and feature golf course views. You can relax at the resort's on-site clubhouse and pool, or take advantage of golf facilities, tennis courts, and the beach, just minutes away. Priority tee times are available at the many nearby golf courses, and you are also invited to use the adjacent fitness and spa facilities.
"Island Links offers a quiet balance of rejuvenation that will leave plenty of time to visit one of the resort's three pools, explore miles of island-wide bike and nature trails connected to the resort, fishing, or gazing out at the resort's beautiful lagoon."
Reviewers have said this about Island Links Resort:
"The grounds were superb (located in the pine trees) and the facilities were very well kept."
"This was a nice resort with friendly staff, and we would gladly return. The pools at this resort were great, with excellent water quality."
"The resort was convenient to the island's extensive cycling path system."
"The shuttle to the beach was easy and we enjoyed the facilities at the Westin."
"Hilton Head Island has 12 miles of pristine sugar-sand beaches, 24 championship golf courses, tennis, biking, and kayaking, as well as world-class dining and shopping.
This barrier island offers an unusual number of cultural opportunities including Broadway-quality plays at the Arts Center of Coastal Carolina, the 120-member full chorus of the Hilton Head Choral Society, the highly-rated Hilton Head Symphony Orchestra, and the Main Street Youth Theater. It also hosts the Heritage Golf Classic, a stop on the PGA Tour.
Island Links Resort currently has timeshare rental listings on redweek.com ranging from $186-$257/n, and timeshare resale postings from $1,250-$10,500.
(Photo credit – diamondresorts.com)
Categorized in: Daytona Beach timeshare rentals, Island Links Resort Hilton Head Island, timeshare resales