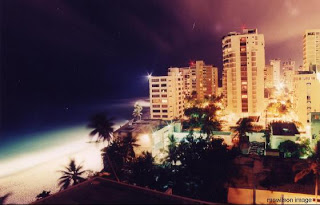 It's Winter, it's Cold, and so what do you think of a sun-splashed, warm winter getaway to the Caribbean? Head to Puerto Rico. No passport, no currency conversions, and no translations. So taking a timeshare rental vacation here is almost a no-brainer!
Puerto Rico is known for great beaches, exciting nightlife, the "golf capital of the Caribbean," and world-class snorkeling and scuba diving. But wait – there's more! Kathleen Squires, a travel writer for Budget-Travel magazine has posted "20 Best-Kept Secrets of San Juan, Puerto Rico" in the December 2010/January 2011 online issue. We've culled out some of her more interesting ones, and will post them in a 2-part series.
An iconic bank's secret stash. The 11-story art deco Banco Popular skyscraper has been a popular landmark in Old San Juan for 70 years, but few visitors know of the museum on its 3rd floor. The Sala de Exhibiciones Rafael Carrión Pacheco showcases island-centric exhibits, such as an exploration of area coffee plantations and a 38-foot scale model of the old city.
A picturesque resting place. San Juan's most exclusive stretch of coastline isn't part of some fancy resort—it's the Cementerio Santa María Magdalena de Pazzis, a nearly 200-year-old burial ground tucked between the ruins of the El Morro fortress and the Atlantic Ocean. A peach-colored chapel stands among hundreds of elaborate tombs, where prominent islanders are interred such as singer Gilberto Monroig, and actor José Ferrer (uncle of George Clooney).
Where the jukebox still reigns. Closet-size Café Celeste is often overshadowed by the famous Nuyorican Café across the street, but the scene inside this Old San Juan hole-in-the-wall is no less worthy. Along with a handful of other timeworn joints, it makes up "the jukebox walk," a circuit of laid-back bars where the vellonera, where a jukebox filled with salsa and mambo is the draw.
A bygone vacation village. The Condado district, (see photo) four miles east of Old San Juan, is now synonymous with condo towers and trendy shops, but it began as a sleepy, turn-of-the-century beach community where the city's wealthiest families kept grand, Spanish-style second homes. A few of the historic buildings remain, and have been repurposed. to new purpose: One houses the restaurant Ajili Mojili, where travelers can taste traditional Puerto Rican dishes in an old-fashioned setting.
A high-flying show. On weekends, while sightseers throng El Morro, the 16th-century citadel at the northwest tip of Old San Juan, residents take to the lawn in front of the fort to unfurl an impressive array of kites. The real spectacle is on Sundays, when families come from inland to launch their elaborate fliers, made from old fabrics and papier-mâché.
(Source referenced from Budget-Travel.com. Photo credit mawilson from virtualtourist.com)
Timeshare Vacation in Puerto Rico – Part 2
Categorized in: golf timeshare vacation, Puerto Rico Timeshare, San Juan timeshare, timeshare rental