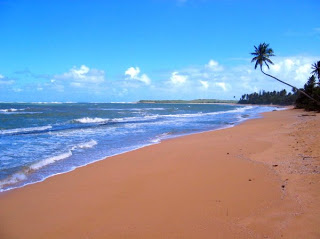 This is Part 2 of our 2-part look at a list of Best-Kept Secrets of San Juan put together by Kathleen Squires, a travel writer for Budget-Travel magazine, that was has posted in the December 2010/January 2011 online issue. Consider a Puerto Rico timeshare rental for your winter getaway – there's lots to enjoy.
Art tour. The new Tren Urbano rail system will take you on an all day, do-it-yourself "art crawl." The train can drop you off at an independent film screening at the Fine Arts Café, a play or a concert at the Sala Teatro Beckett, or disembark for a short walk to Rio Cantina Urbana, a gallery and music venue. For a special treat, be sure to stop by Halederia Los Chinitos, says Squires – a popular ice cream shop that's been going strong for over 50 years.
An after dark Market. The Plaza del Mercado is a marketplace that brims with plantains, avocados, mangoes, and folks cooling off with coco frío (cold coconut water) during the day, says Squires. But after 6 p.m., when the market shuts down, the bars that line the plaza throw open their metal grates to a young, dressed-up crowd that turns the square into an informal block party, liveliest on Thursdays and Fridays.
An easy Day Trip. A 20-minute drive east of Old San Juan lies Piñones, (see top photo) which Squires calls the best little getaway you've never heard of. There's a palm-lined boardwalk that links several sandy beaches, a handful of tidal pools where beachgoers can sit on flat rocks near the breaking waves, and huts selling pinchos (skewers of grilled meat and fish). The area is best explored on a bike, and rentals are readily available.
A slamming native dance. Salsa fans, says Squires, meet your next obsession: Bomba, created at the end of the 18th century by West African slaves on Puerto Rico's sugar plantations. In DanzActiva's Saturday classes, aspiring dancers can attempt to master the demanding steps, a kind of rhythmic call-and-response with a live band.

We're going to add our own best-kept secret here – The really good news is that there are numerous budget-friendly timeshare rentals in San Juan. For example, the ESJ Towers resort, smack on a beautiful white beach, has winter timeshare rentals that start at just $65/n.
(Source referenced from Budget-Travel.com. Photo credit threebestbeaches.com)
Timeshare Vacation in Puerto Rico – Part 1
Categorized in: ESJ Towers resort, Puerto Rico Timeshare, San Juan timeshare, timeshare rentals, timeshare vacation