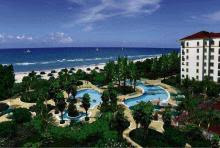 Marriott's Ocean Pointe resort on Florida's Singer Island offers both a quiet, secluded beach destination, and the excitement of glamorous shopping and spas in nearby Palm Beach. Marriott's Ocean Pointe is the perfect resort for families, with amenities that include family entertainment, and a host of activities for the kids.
If you've been thinking about buying a timeshare at this remarkable resort, you might want to check out the Ocean Pointe resales that are listed on RedWeek.com. Currently there are 45, ranging in price from $5000 to $40,900. Talk about choice!
Reviews by Redweek members include:
"This is a top notch resort and the villas are beautiful. Marriott International has really out done themselves. This is a Great vacation value."
"We are Canadian and have been coming here for 4 years now/ twice per year (We own 4 weeks). But we rent from other owners on Redweek when we want to stay longer or for extra units for family & friends traveling with us. The place just keeps on getting better every year."
"We are 9 year owners of a unit at Ocean Pointe. Water sports galore abound on the beaches: jet skis, parasailing, fishing, sailing, and wave boarding (all set up at Ocean Pointe). There are two wonderful restaurants on the island which you can walk to with a beautiful boardwalk and shopping. You can also rent bikes or scooters to tour the island with. And there is a state park on the island where you are able to rent canoes or kayaks and spend an afternoon in the bay. We never get bored on Singer Island even after 10 years."
An Ocean Pointe resale might be just what you're looking for to ensure that you and your family have the perfect beach vacation year after year.
Categorized in: beach vacation, Florida timeshares, Marriott's Ocean Pointe, timeshare resales