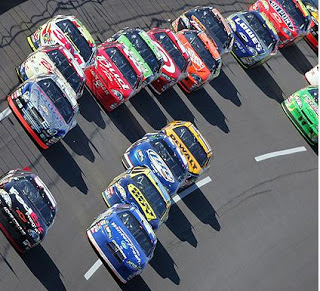 NASCAR® Fans! Are you ready for the Daytona 500? On February 20, 2011, the Daytona International Speedway in Daytona Beach, FL, will host the 53rd annual event of this world famous race. Forty-three of the best stock car drivers in the world will compete in "The Great American Race," NASCAR's biggest, richest and most prestigious event.

Daytona Beach, Florida, is almost unique among beach timeshare rental vacation destinations. Stretching for 23 miles, 11 of those miles are drivable by car. The sand, wonderfully powdery-soft to the touch, packs hard enough to allow motorized vehicles to safely traverse along the beach in specified areas.
This wide beach of hard-packed sand is what created the motor sports capital of Daytona Beach. The first motorized vehicles drove along the beach in 1902 when engineers of the new fangled automobile used the area to safely test their inventions. The Daytona Beach Road Course was created in 1936 for the first stock car races, and actually was the site of 15 world land-speed records. Races continued to be held on the beach until 1959 when NASCAR was created and the Daytona International Speedway was built.
Since then Daytona Beach has become the mecca for fans of the thrilling speed and electrifying feats of just about every motorized vehicle known to man. The Daytona International Speedway itself covers 180 acres, including a 29-acre lake. The major races attract over 250,000 spectators, divided between the 165,000-seat grandstand and the infield track.
Be sure to visit the track on non-racing days, too – it offers three separate open-air tram tours through its hallowed grounds, giving you first-hand experience of what racing along a steep 31-degree banked turn is like.
Other "need for speed" activities that are fun for the entire family in the Daytona Beach area include the "Daytona 500 Experience." Here you can test your racing skills in a stock car motion simulator. And the 3-D Imax Experience puts you in the driver's seat in another highly realistic racing encounter.
It's probably no coincidence that the Daytona 500 is run in February. About this time most of us are winter-weary, and a warm beach getaway sounds about perfect. The wide expanse of the beach offers a wonderful opportunity for those of you who are early morning walkers and joggers to use the hard-packed sand to your advantage, while being serenaded with beautiful sunrises. Later in the day take a break from sunbathing and sandcastle-building and take the family to the historic pier and boardwalk where you can ride the Ferris wheel and play amusement games.
So plan a fun Daytona 500 winter vacation. The Daytona Beach Regency Resort currently has timeshare rentals for that week starting at just $80/night.
Categorized in: Daytona Beach Regency Resort, Daytona Beach timeshare, Florida timeshares, nascar