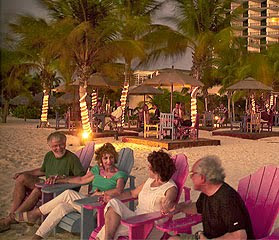 The beachfront Beach Villas at Divi Phoenix Resort in Aruba is located just 4 miles from Aruba's capital city, Oranjestad. The resort is approximately 2 miles from the Divi Village Golf & Beach Resort, the Alhambra Casino, and the Links at Divi Aruba Golf Course.
Situated on Aruba's famed Palm Beach, and backed by a private wildlife sanctuary, the Beach Villas at Divi Phoenix is a tropical delight. A wide beach of pure white sand, dotted with palms, thatch cabanas, and hammocks, invites you to relax to breathtaking views of the Caribbean Sea.
Beach Villas at Divi Phoenix is the newest development at the Divi Aruba Phoenix Beach Resort. This new development adds 148 luxury suites to the existing 101 units at the resort. The new suites are housed in four eight-story buildings, each featuring spacious studios, one bedroom suites, and two and three bedroom penthouses that offer fully equipped kitchens, picture windows, and large private balconies with sweeping views.
This is the perfect resort for being lazy on the beach and doing absolutely nothing. However, if you prefer to keep active, a full service activities coordinator is available to assist you in arranging island tours, water sports, and more.
Scuba diving and snorkeling is a favorite pastime in Aruba. Divers with Open Water Certification can enjoy the many diving sites Aruba has to offer, including wall diving, reef diving, and exploring wrecks sunk during World War II. There are many excellent snorkeling sites as well, including beautiful coral formations as well as the wreck sites with a visibility, at some sites, of 100 feet.
Aruba is also known for its glitzy and glamorous casinos. The larger casinos feature live first class entertainment imported from other countries such as the United States and Latin America.
Redweek members have written these reviews about Aruba's Beach Villas at Divi Phoenix:
"Such a beautiful resort we accidentally came upon after staying in a more crowded timeshare. Now own two units. It is quite picturesque".
"The resort is quite charming!!! It is peaceful and has a beautiful Zen look. The ocean view is breathtaking. Rooms are very nice, spacious with a large balcony. Housekeeping was extremely accommodating. Beach has been cleared of rocks & shells and they are continuing to clean it up. Pools are very big, lots of space. Lovely property".
If you are thinking of joining the ranks of Divi Phoenix owners there are currently 9 timeshare resales listed on RedWeek, ranging from: $39,500 – $169,700. There are 7 resales for the Divi Aruba Phoenix Beach Resort from $2,750 – $21,000. Timeshare rentals are also available at both resorts.
(Photo credit – diviarubaphoenix.com)
Categorized in: Aruba timeshare resorts, Beach Villas at Divi Phoenix, Divi Aruba Phoenix Beach Resort, Divi Phoenix owners, timeshare rentals