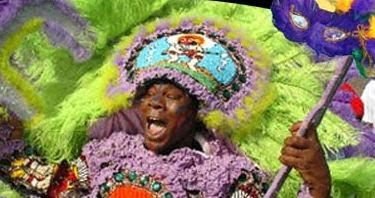 It's Mardi Gras!! And it's time to be planning your New Orleans timeshare rental Mardi Gras vacation. Mardi Gras for 2011 is on March 8th.
Mardi Gras is celebrated in various incarnations all over the world, but the premiere event is in New Orleans. The city's party officials put it this way, "Perhaps it's the anticipation of the merriment, the excitement of catching throws, the extravaganza of the parades, getting dressed up in costume, or going to a Ball – but a frame of mind takes over the Big Easy and says 'forget your problems and have fun!'"
When you go to New Orleans for Mardi Gras, the city wants you to have the time of your life. Following are some of the best tips on how to enjoy Mardi Gras, straight from the official Mardi Gras web site.
Parades
Get to the parade route early. For the biggest parades rolling in the evening the weekend before Mardi Gras, plan to get there about 4 hours ahead of time to get yourself a great spot.

For the main "Bacchus" parade people start saving a spot as early as 6am. The good news is that if you do plan to stake out a place that early, several smaller parades roll by during the afternoon for your entertainment.
You can also find special packages put together by businesses along the parade route offering food and a front row spot for the parade.

Dress in Costume
It's the one season of the year you can dress up as anything imaginable. There are contests for costumes in every part of the city – and the crowd-watching is as much fun as the parades so be sure to bring your camera.
Catch Mardi Gras Throws
Go ahead – be a kid again! Enjoy jumping up to catch beads, doubloons, cups, stuffed animals – whatever. Yell at the float riders "Throw me something, Mister!" Bring a large, sturdy plastic or cloth bag to hold all the treasure you'll be catching.

The French Quarter really has nothing to do with the Mardi Gras celebrations, although this is the area highlighted by the news media at this time of year. It is simply an adult area where the risque' behavior of many visitors to Mardi Gras is tolerated. If you are traveling with your children, this area is best avoided.

Kid-friendly Fun
There are many activities and events happening all around the city that are kid- and family-friendly. Pack picnics from your timeshare kitchen and spend the days joining in the carnival festivities just as the locals do.
(Photo credit – mardigrasneworleans.com)
Categorized in: Mardi Gras travel, Mari Gras tips, New Orleans timeshare, timeshare rental