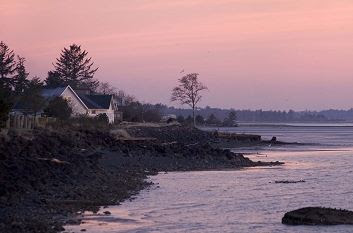 Are you looking for a seaside timeshare vacation? There are a lot of crowded beaches out there. Or you can visit well-known areas along the Oregon coast. But have you ever thought of Ocean Shores, on the Pacific coast of Washington state?
Washington has a number of popular seashore vacation destinations around Seattle and the Puget Sound, but many people have never heard of Ocean Shores. Well, you're in for a treat.
Ocean Shores is in the unique position of being bordered on the west by the Pacific Ocean, and on the east by Gray's Harbor. The town itself has a year-round population of about 4000 souls, but hosts more than 3million visitors a year.

The Windjammer Condominiums in Ocean Shores, WA, is located in the middle of an 18-hole golf course that was developed by several Hollywood celebrities and at which Pro-Am tournaments were held during the 1970s. You also have unlimited use of the Ocean Shores Community Club facilities, which include tennis courts, indoor and outdoor pools, a snack bar, exercise equipment, and a game room.
The beach is less than a mile away, where popular activities include beachcombing and whale watching, as well as horseback riding through the surf.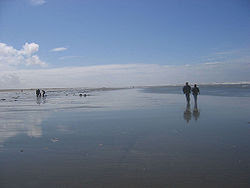 Digging for razor clams is a favorite activity for locals and visitors alike, and you can put your timeshare kitchen to good use cooking up these juicy delectables.
Ocean Shores even has a Razor Clam Festival. The 2011 5th annual event will be held on March 19th with clam chowder and "creative clam" cook-offs, entertainment, a Fireman's pancake breakfast, an arts and crafts show, and, of course, clam digging.
One RedWeek member reviewed Windjammer Condominiums by saying:
"Our family certainly enjoyed our stay here. Most fun things at Ocean Shores involve; 1) beach activities OR 2) golf. Windjammer is set up well for both. They have an outdoor sink and hose area for cleaning your clams, shells, etc. and they are located next to the golf course. We have been in newer, more upscale resorts, but the unit size and amenities were more than satisfactory. The staff is genuinely small town friendly and they know EVERY good spot to visit…….and what tourist traps to avoid as well. I have not met a more helpful staff in ten years of timesharing. One last thing, you get free access to the local community center and it has an indoor pool. This is a huge advantage when you travel with small children."
(Clam digging photo credit – wikipedia.com. Golf course photo credit – oceanshoresgolf.com. Beach photo credit – osgov.com)
Categorized in: Ocean Shores timeshares, Washington timeshares, Windjammer Condominium