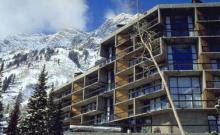 Looking for some March Spring Break fun in the snow? Look no further than a timeshare rental at Iron Blosam Lodge in Snowbird, UT. The area is famous for dry-powder snow from late November to March, often followed by excellent spring skiing to May. The resort has 32 runs, with 3,100 vertical feet of skiing. The slopes are just a short walk from the resort.

Located in Utah's Wasatch Mountains, only 26 miles from downtown Salt Lake City, Iron Blosam Lodge-Snowbird is a year-round resort, and it really swings in March. Take a look at these 3 fun things:
Winter Stargazing, March 5, 2011
Join local astronomers for an informative presentation, then ride to the top of 11,000 ft Hidden Peak via Snowbird's Aerial Tram. From there, you will enjoy an unobstructed view, through high-powered telescopes, of the glittering stars in the spectacularly clear night skies.
Subaru Freeskiing World Tour, March 8-12, 2011
The 2011 Subaru Freeskiing World Tour featuring the best big mountain skiers in the world, began its North American stops in January with The Canadian Freeskiing Championships in Revelstoke, BC. Now, after also going to Colorado and California, the tour makes its final and most exciting stop in Snowbird, for the 14th year in a row.

St. Patrick's Day, March 17, 2011
Three restaurants at the resort are gearing up for a lively St. Patrick's Day celebration for all of you who are Irish, or wish you were. The Aerie Restaurant will serve traditional Irish offerings, with a twist – how about your red baby potatoes being smothered with Irish Whiskey cream sauce? The Lodge Bistro will offer gourmet fare, starting with slow-braised corned beef. And at El Chanante – "Longhorns & Leprechauns with events throughout the day and late into the night."
A reviewer said this: "I have owned a timeshare at Iron Blosam for close to twenty years. The staff there is most hospitable, and the rooms, restaurant, pools and other amenities are excellent. I even like the solid concrete architecture, which is so necessary in that avalanche-prone valley. In particular, I like the outside heated swimming pool, which is so relaxing after a day of skiing. When it is snowing (and that's often), it is delightful to watch the snowflakes gently descending into the water and settling on the surrounding trees as one luxuriates in the warm water."

In the summer, you can take advantage of the resort's in-house summer recreation program and Snowbird Resort's concerts, workshops, tennis, hiking, mountain biking, shops, and restaurants.
A view of Iron Blosam Lodge images is sure to get your Spring Break juices going, and a look at the budget prices of timeshare rentals at the resort could just clinch your trip!
See Iron Blosam Lodge Timeshares
Categorized in: Iron Blosam Lodge, Snowbird timeshares, spring break travel, Utah timeshares