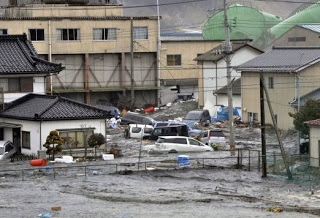 Wherever you are vacationing with your timeshare, or plan to vacation within the next couple of weeks, you need to pay close attention to all news reports if you will be on the west coast of the U.S., or within the Pacific Rim. In the wake of the devastating 8.9 earthquake in Japan, sirens have been wailing tsunami warnings up and down the U.S. Pacific coast and Hawaii. Tsunami warnings were issued for virtually the entire Pacific region.
The first waves have now reached the mainland of the United States. There have been reports of damage to the Santa Cruz harbor, and the Times-Standard in Eureka, CA, reports that the harbor has been destroyed in Crescent City, with 35 boats crushed.
Major airlines to and from Japan are canceling flights until the cycles of the tsunami have diminished, and the earthquake aftershocks have decreased. Tokyo Airport is closed at this time. Check your airline for information on the waving of fees for re-booking.
The Hawaii state government has issued a statement that roads leading into the Honolulu Airport have been closed until further notice. Request is made that no one attempt to get to the airport at this time. Due to the tsunami warning for Hawaii, all flights have been canceled until such time that the tsunami warning is lifted.
Marriott International and other large hospitality companies have issued press releases reporting tsunami evacuations of their hotels and resorts throughout the Pacific Rim, including Hawaii, Guam, and Indonesia, as well as Japan. The companies plead that hotel and resort guests follow all evacuation instructions given by their trained staff, including taking only medication and valuables from your hotel room. Leave the luggage – there's no where to take it and as it piles up in the hotel lobby it becomes a fire hazard. Also go directly to the safe areas as indicated by the staff. One hotel in Maui reported having to send its staff out to the beach to bring in guests who wanted to get a closer look at the surf surge.
As reported by the Associated Press "Water rushed up on roadways and into hotel lobbies on the Big Island and low-lying areas in Maui were flooded as 7-foot waves crashed ashore."
The Japan earthquake was 8000 times stronger than the one in Christchurch, New Zealand, in February, and one after shock has been recorded at 6.6. The earthquake triggered a tsunami wave of up to 50 feet high that washed away houses and businesses. Scientists have warned that the first tsunami waves are not always the strongest, and officials said people in Hawaii and along the West Coast should remain vigilant.
The Red Cross has opened evacuation shelters in Washington, Oregon, California and Hawaii, with additional shelters on stand-by. If you would like to donate to the Red Cross disaster relief for the Japan earthquake and Pacific tsunami, go to its web site.
(Photo credit – huffingtonpost.com)
Categorized in: Japan earthquake, Marriott, Red Cross, timeshare vacation, travel news, tsunami warning