Boston is without a doubt the most iconic Irish city in the U.S. So what better place to celebrate St. Patrick's Day? Rent a Boston timeshare, or plan a timeshare rental just an hour away on the seashores of Cape Cod, then don your Green, and start practicing your brogue.
Historically Boston gained its large Irish population because it was the largest port closest to Ireland, and thus was the quickest and cheapest American destination for Irish immigrants, especially with those fleeing the potato famine in the mid-1800s, although the Irish began concentrating in the area as early as colonial times.
The culture, music, and food of the Irish people now permeate Boston, and comes bounding to the forefront in the celebration of all things Irish for St. Patrick's Day.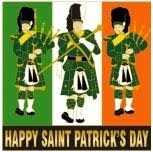 The headliner is the exciting St. Patrick's Day Parade, always held on the Sunday following St. Patrick's Day. In 2011, the parade will be held at one o'clock Sunday afternoon, March 20. Featuring marching bands and bag pipe bands from throughout the U.S., as well as visiting bag pipe bands from Ireland, along with colorful floats and Irish step dancers, the parade will wind its way through South Boston – the city's most Irish neighborhood.
While waiting for the day of the parade, you can find many other activities to help you celebrate St. Patrick's Day the Boston way. One of the most popular is Boston's Irish Heritage Trail. A fascinating self-guided, three mile walking tour, it starts at the Rose Kennedy Rose Garden, and includes Boston's downtown, North End, Beacon Hill and Back Bay. Along the way you'll learn about famous politicians, artists, matriarchs and war heroes all "part of a rich tradition of colonial rebellion, leadership and triumph that personifies the Boston Irish."
One person you can learn even more about is Boston's (and Ireland's) favorite son, John F. Kennedy. The JFK Library and Museum is located in Boston, at Columbia Point, and is open daily. The museum's director suggests that while you are there; take a moment to enjoy the spectacular views of the city across the water from the dramatic glass pavilion atrium.
The week of St. Patrick's Day, from March 13-18, 2011, you can also participate in Boston's Restaurant Week. This is a great opportunity to sample Boston's fine dining at discount prices – and see what the chefs come up with for a St. Patrick's Day feast.
And if you stop by historic Faneuil Hall in the Quincy Market Colonnade during St. Patrick's Day weekend, you'll not only find budget dining, but local Irish Step Dancing groups providing hand-clapping entertainment, as well.
(Photo credit – saintpatricksdayparade.com/boston)
Categorized in: Boston timeshare, rent a timeshare, St. Patrick's Day