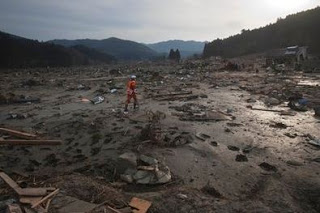 If you plan a timeshare vacation in the near future to Japan or other Asian market destinations, there will be a lot of information for you to consider in the wake of the disaster triple-threat in Japan of the earthquake, tsunami, and radiation leaks.
In Part 1 of our 3-Part series that looks at the impact that Japan's crisis is having on world tourism, Online news source Breaking Travel News (BTN) posted the following article on March 16, 2011, "Aviation ready to act over deteriorating situation in Japan."
Officials at the US Federal Aviation Administration have taken the lead in the global response to the deteriorating situation at the Fukushima Daiichi nuclear power plant in Japan. All options were available, the government body said, including the rerouting of Japan-bound flights if the nuclear crisis there worsened further.
"If the situation at Fukushima worsens and we see credible indications that radiological hazards to civil aviation exist beyond the flight restriction areas the FAA is prepared to take air traffic management measures, including the rerouting of air traffic," explained a statement.
Air China has cancelled some flights to Japan, mainly due to the operational capacity of airports. These include departures from Beijing and Shanghai to Tokyo. Lufthansa confirmed it is diverting planes meant for Tokyo to Osaka and Nagoya via Seoul and that this schedule would remain in place until the weekend. However, these appear to be exceptions, with other carriers, including Air New Zealand, Delta, and American, continuing to operate as normal.
Despite the optimistic response from international carriers, national governments have been markedly more reticent when advising citizens traveling in Japan.
The State Department urged US citizens to avoid tourism and non-essential travel to Japan, in line with advice from Great Britain, France, Germany and several smaller European states.

Travel News: Crisis in Japan – Part 2 – Tokyo is Safe
Travel News: Crisis in Japan – Part 3 – Tourism Drops
(Photo credit – Yahoo News and Associated Press)
Categorized in: Japan earthquake, Japan travel, Japan tsunami, timeshare vacation, travel news