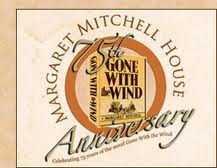 The 150th Anniversary of the start of the Civil War is being commemorated with numerous activities in 2011, and it's only fitting that the most famous literary work ever written about that war and time also be remembered. As it happens, 2011 marks the 75th Anniversary of Margaret Mitchell's momentous Pulitzer Prize winning novel, "Gone with the Wind."
"Gone with the Wind" is one of the most popular books of all time, selling more than 30 million copies and being adapted into an Oscar-winning movie. Rent a timeshare in Helen or Marble Hill, Georgia, just an hour from Atlanta, and enjoy Anniversary events and programs that celebrate the life and times of Margaret Mitchell and Scarlet O'Hara.
The Margaret Mitchell House. You can tour Mitchell's small apartment in a 3-story revival home on Peachtree Street in Atlanta, and see where Mitchell typed out her manuscript on a Remington typewriter. Also available for visitors are two Mitchell-related exhibitions, Margaret Mitchell: A Passion for Character and The Making of a Film Legend: Gone With the Wind.

A special Anniversary program will be held May 14, 2011. "Experience 150 years of history with this special program by delving into the entire Gone With the Wind story and travel through time, including Civil War soldiers in the heart of Atlanta, the city in the 1920s when Margaret Mitchell wrote the book, and the lasting legacy of the Pulitzer Prize-winning novel."

Visit Margaret Mitchell's Final Resting Place. In August, 1949, Mitchell was hit and killed by a speeding taxi as she crossed Peachtree Street, and was buried at Oakland Cemetery, which is on the National Register of Historic Places. Popular guided walking tours of the lovely cemetery take place very weekend from March 12 – November 27, 2011.
Margaret Mitchell: American Rebel World Premiere. A gala dinner will be held on June 9, 2011 at the Georgian Terrace Hotel in Atlanta. As a way of celebrating Georgia Public Broadcasting's 50th Anniversary, the event will showcase the world premiere of a G-PBS original production "Margaret Mitchell: American Rebel."
"Home of Gone With the Wind." Jonesbro and Clayton County, just 15 miles from Atlanta, is Mitchell's ancestral home, and the area has been designated by the Mitchell Trust and the Georgia State Legislature as the official "Home of Gone With the Wind."

The 75th Anniversary will be celebrated here June 10-11, 2011, with a 6-stop living history tour, complete with costumed storytellers as they parallel Jonesboro's history with the characters and stories found in Gone With The Wind.
(Photo credit – southernliterarytrail.org)
Categorized in: Georgia timeshares, gone with the wind, Helen timeshares, Marble Hill timeshares, Margaret Mitchell, rent a timeshare