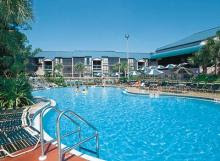 Parkway International Resort in Kissimmee, FL, provides the intimacy and serenity of a smaller timeshare resort. Rated a Five Star Resort by Interval International, this 144 unit property offers two-bedroom, two-bath timeshare villas that can accommodate up to six people. Complete with full kitchen, living room and dining area, the villas feature a king-size bed and whirlpool spa tub in the master bedroom, two twin beds in the second bedroom, and a sleeper sofa in the living area.

Situated on lush grounds just a mile from Walt Disney World, staying at the Parkway International Resort puts you n the heart of Orlando where you can select from over 5,000 restaurants, 168 golf courses, and 95 different attractions.
The resort's amenities include a swimming pool, kiddie pool, tennis court, arcade game room, poolside Tiki Bar and Grill, children's playground, shuffleboard, nature trails, a fitness room, and a barbecue and picnic area.
Reviewers have this to say:

"The perfect sized resort, and only 5 minutes to Disney's Main Gate. Not one of those gigantic, humongous resorts…..here you get to know the staff – and they're wonderful. A big, deep pool surrounded by trees and lush tropical plants, never crowded at the pool either."
"I stayed at Parkway and I loved it. The units and grounds are extremely well kept. It's a smaller resort than a lot of the large ones therefore it has a more intimate feel to it. Can't wait to go back."

"The pool was nice and we really like the nature trails. Hard to believe we were minutes from everything but it still had an isolated feel. This was our second year and we enjoyed it more this year than last. The staff is wonderful."
Parkway International Resort is currently listed on RedWeek with 2 rentals: $93 – $171/n, and 5 resales: $1 – $6,000.
Categorized in: family travel, Florida timeshares, Interval International, Kissimmee timeshares, Parkway International Resort