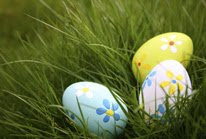 There are lots of fun Easter activities and events across the country. Plan a San Diego timeshare rental family vacation and enjoy this late April Easter in all of its glory. Besides hippity-hopping on a great beach, here are 4 traditional San Diego Easter celebrations for more family fun.
Easter Brunch and Egg Hunts at the Hotel del Coronado, April 24, 2011. Six egg hunts, for children of all ages, are planned between 10am and 12:45pm on the seaside Windsor Lawn. A Holiday "Craft Egg'stravaganza" and a visit from the Easter Bunny will also be part of the celebration. The Hotel is known for its magnificent Champaign Easter brunches, and this year the buffet, accompanied by entertainment and music, will be offered in both the beautiful oceanfront Ballroom, and the luxurious Crown Room. Look for 5-foot high Easter bunnies and eggs made completely out of chocolate as part of the fun decorations.
Easter Egg Hunt – Julian, April 24, 2011. In contrast to the elegant Hotel del, you can celebrate Easter with an egg hunt and special apple pie in the historic gold mining mountain town of Julian, just an hour's drive from downtown San Diego. Here you can enjoy Easter amidst the blossoming of spring flowers, and blooming cherry and apple trees. An added bonus will be a short drive off the mountain to see the Anza Borrego Desert State Park awash in color as this year's especially wet winter allows the desert to burst forth in a stunning carpet of flowers.
Easter Brunch and Egg Hunt – Temecula, April 24, 2011. Another unique town just an hour's drive from San Diego, Temecula is the heart of southern California's wine country. Here you can enjoy Easter brunch at the Vineyard Rose, and Easter Egg hunts will be held every hour during the day, starting at 11:00am. Adults can have fun watching the festivities while enjoying live musical entertainment and a complimentary glass of sparkling wine. Oh, and the Easter Bunny will also be there from 10:00 am to 4:00pm.
Sunrise Service. A number of non-denominational Sunrise Services will be held around San Diego on Easter morning. Mt. Soladad, Balboa Park, and Cabrillo National Monument on Point Loma are three of the most popular.
Categorized in: Easter vacation, family vacation, San Diego timeshares, Spring vacation, timeshare rental