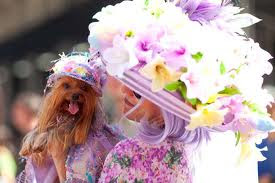 Are you looking for a different way to spend Easter? How about heading to a big city? Rent a New York City timeshare and head out for these fun activities:
Staten Island Historical Society Easter Egg Hunt
Saturday, April 23, 2011, 2:00 pm.
Decorate a paper egg basket in high Victorian style. All decorations are provided. Hunt for up to 6 candy-filled eggs in an 1800s townhouse specially decorated for the season. Meet the Easter Bunny and take photos with him. Refreshments are even served.

And remember – the Staten Island Ferry ride across New York Harbor is Free!

Barnyard Easter Egg Hunt at the Queens County Farm Museum
Saturday, April 23, 2011.
Ongoing throughout the day. The Farm Museum will hold its annual Egg Hunt in the orchard. "Whiskers" the bunny will be hopping around the farm to greet children and pose for pictures, so bring your camera. Dance the "Bunny Hop", play egg toss and egg rolling games on the farmhouse lawn. Visit all of the farm animals, and even take a hayride.
Spring Eggstravaganza at the Queens Zoo
April 23 – 24, 11:00 am – 4:00 pm.
Visit the Zoo for an egg-stravagant Easter event! Take part in an egg hunt, meet the Easter Bunny, and enjoy a variety of spring-themed activities that include meeting the zoo's Flemish giant rabbits – weighing in at almost 20 lbs., Herman is one of the largest bunnies you'll ever see.
5th Avenue Easter Parade (see photo above)
April 24, 2011, 10:00 am – 4:00 pm.
On Easter Sunday, (April 24, 2011) you have the opportunity to see Easter bonnets to the extreme as "paraders" wander along Fifth Avenue from 49th to 57th Street, which is closed to vehicular traffic. Unlike most New York City Parades, the Easter Parade is a far less organized event and folks wander the street admiring extreme Easter Bonnets and pets dressed in Easter costumes.

"This parade doesn't have any floats or marching bands but it is a spectacle nonetheless. From around the world people come to New York City to participate. Outfits range from elegant to outrageous. From outfits accented with live animals to the latest high fashions, there is a little bit of everything for the parade viewer," says one review.
(Photo credit – politifi.com)
Categorized in: Easter vacation, family travel, New York City timeshare