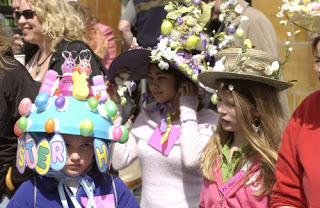 The big Easter celebration in San Francisco is a long-running tradition. Rent a San Francisco timeshare and join in the fun. This is truly a kid-friendly event that the entire family will enjoy.
San Francisco's 20th Annual Spring Celebration & Easter Parade occurs on Sunday, April 24, 2011. The day-long event is 10:00am to 5:00pm, with the parade beginning at 2:00pm on Union Street.
Everyone is getting into the act as the annual event celebrates and showcases the diverse community of San Francisco, featuring some of Union Street's best restaurants where you're served in an outdoor bistro setting. You'll have a chance to sample all kinds of food from funnel cakes to pausas, from seafood chicken gumbo to garlic chips to Hawaiian smoothies.
A variety of children's and family activities are the focus of the celebration and include large inflatable bounces, kids' rides and games, a climbing wall, a hands-on children's activities area, costumed characters, a petting zoo, a pony ride, and entertainment from some of the Bay Area's best musicians.
Since its inception this event has been known as the Biggest Little Parade in San Francisco. Over the years the parade has grown until now almost 50 units enter, reflecting the unique community of the Bay Area.
"The event is not your average Street Fair or formal Parade," says a spokesperson. "It can best be described as wonderful, wacky, elegant and fabulous, with everything from rollerblading cows and creative self-propelled mini-floats to garden areas, sophisticated fashions and beautiful classic and art cars. It's a special event for the entire family."
There is even an Easter Bonnet Contest (see photo). Categories include Best in Show, Best Couple, Best Family, Best Pet, Best Children, Best Merchant, Most Elegant, Largest Hat, Most Comical, and Most Creative.
Since your San Francisco timeshare rental offers you spacious accommodations, you and your family will have plenty of room in which to design, create, and otherwise show your genius at award-winning Easter Bonnet making.
(Photo credit – sresproductions.com)
Categorized in: Easter vacation, family travel, San Francisco timeshare, timeshare rental