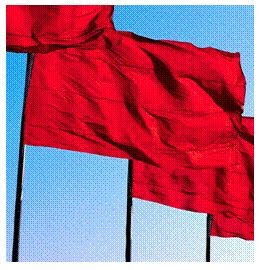 Timeshare resale scams. Still in the news and still a hot topic of conversation.
One of the longest running threads on the RedWeek Timeshare Forums (over 2 years) is about timeshare resale scams. Well-intentioned people are still falling for them, and are still losing thousands of dollars in "upfront fees" in the process.
If you are thinking of selling your timeshare, the best advice is to go through a reputable company and pay no upfront fees.
Why do timeshare owners still fall for these scams? Well, it comes as no surprise that the scammers are good at what they do. Just the right amount of sympathy. Just the right amount of information. Just the right kind of promise.
Here are some clues that you're tangling with a potential scammer, and should hang up the phone and run away:
They Called YOU
…Or sent a postcard. If they are soliciting you, then they have their own agenda. They'll give you no chance to do your own research, which is what you should be doing – investigate all the steps that selling your timeshare involves before you commit to anything.
Guarantees
Nobody can make a guarantee. Nobody reputable, that is. If they do give you a guarantee, ask for it in writing. If they go so far as to send you something, look at it with a fine-toothed comb. Odds are it's generic, open-ended, and written in double-talk legalese – and unenforceable.
Upfront Fees
This is the clincher. Under no circumstances should you ever give anyone upfront fees. Timeshare owners are becoming more knowledgeable about this red flag, so the scammers are getting more creative. They might not ask you to send money to cover administrative fees, but if they require you to send money to cover the closing costs of the sale, that's just another way to have you send thousands of dollars and you'll never hear from them again. Keep in mind that the seller is not – ever – required to cover the closing costs, regardless of how they spin it.
In any and all situations, if the person says "first send me money" you know that it is a scam. Whether it's a timeshare company, a real estate firm, or even a consumer advocate lawyer. And if you're starting to think that just maybe they are legitimate, contact the Better Business Bureau. While the BBB has no legal power to prosecute, it can give you information on the company's rating, whether or not complaints have been filed against it, and how – or even if – those complaints were resolved.
RedWeek.com, the largest on-line marketplace for timeshare rentals and resales, holds the coveted A+ rating from the Better Business Bureau, and is an excellent resource for timeshare resale listings. The website offers an easy video instruction on How to Rent, Resell or Exchange Your Timeshare, along with a timeshare resource section that will answer many of your questions.