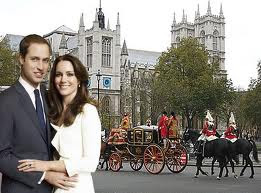 April 29, 2011, means just one thing – the Royal Wedding of William and Kate. As the future king of England and his lady first speak their vows in Westminster Abby, then attend a huge reception at Buckingham Palace hosted by Queen Elizabeth II, and finally dance the night away at a more intimate party hosted by William's father, Prince Charles – you can bet it will all be done amidst much pomp and ceremony.
If you aren't leaving town for your London timeshare to attend the Royal nuptials yourself, in this day and age, viewing live feeds online is just like being there. You can watch the Royal Wedding of Prince William and Catherine Middleton on a number of different online sites, including:
PBS NewsHour coverage of the event will be streamed live by Ustream, starting at 9.30am London time (4.30am ET/1.30am PT).
CNN will stream "various angles of the day's events" live on CNN.com as well as through its iPhone, iPad and Android apps starting at 9am London time (4:00am ET/1:00am PT).
YouTube is going to stream the entire ceremony live on the official YouTube channel of the British monarchy, also known as the Royal Channel, starting at 10am London time (5:00am ET/ 2:00am PT).
Find a complete listing of online sites for live viewing of the Royal Wedding here.
(Photo credit – galatiansfour.blogspot.com)
Categorized in: live royal wedding feeds, london timeshare, view the royal wedding online