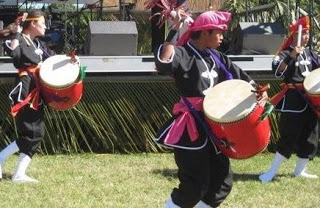 Would you like to help make one of Mom's dreams come true? Odds are that she's like most people on the planet – and has big dreams of a Hawaiian vacation. By renting a Kauai timeshare on the lush, "Garden Island" of Kauai, you can see that she gets her dream for Mother's Day, and the chance to attend some of these fun May festivals in the bargain.
30th Annual Kauai Museum May Day Celebration and Lei Contest
May 1, 2011, Lihu'e, Hawai'i. This is a one day event that promotes and showcases floral leis and the very best in traditional and contemporary lei making by Kauai artists. Activities provide demonstrations and hands on lei making for visitors.
May Day by the Bay
May 7, 2011, Hanalei at Wai'oli Beach Park. A fun-filled day of Hawaiian music and hula set in one of the most beautiful places in the world. There will also be cultural demonstrations, workshops in hula and ukulele, traditional Polynesian food, and skilled crafters.
Kauai Okinawan Cultural and Dance Festival
May 13-14, 2011, Kauai Veterans Center in Lihue. This exciting annual event celebrates the connection between Hawaiian and Okinawan cultures, and features Okinawan food, music, and musical dance performances. In addition you can enjoy the Country Store, games, and cultural displays and exhibits (see photo).
Kauai Polynesian Festival
May 26 – 29, 2011, Vidinha Stadium, Hanapepe, Hawaii. Highlights of the 9th annual event that celebrates the cultural exchange of Tahiti, Samoa, New Zealand and Hawaii, include a Polynesian pageant, various competitions (poi ball, hula, Tahitian dance and fire knife), a fashion show, workshops and craft booths.
Banana Poka RoundUp
May 29, 2011, Kokee State Park, Waimea Canyon. You can best understand this unique festival by its official description: "It's a forest education fair for the whole family with a funny name – the Banana Poka RoundUp! An invasive pest from South America, the Banana Poka vine, with its gorgeous bubble-gum pink blossoms, is the 'poster weed' for this zany annual event. It is just one of the many threats to the health and diversity of Hawaiian forests – and also a fabulous craft material. The RoundUp always features a huge tent where you can learn how to make a basket out of the pest." You'll also enjoy live music, guided hikes, and a Russell Rooster crowing contest.
(Photo credit – (Photo credit – kauaifestivals.com)
Categorized in: hawaii timeshares, kauai timeshares, May festivals, Mother's Day