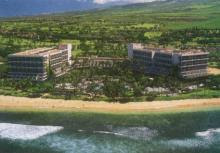 Marriott's Maui Ocean Club is one of the most sought-after timeshare resorts in Hawaii. Located on popular Ka'anapali Beach on Maui's famous North Shore, it's close to attractions such as Whaler's Village and Cannery Shopping Center. Timeshare rentals start as low as $100/night.
Elegance and comfort are the hallmarks of accommodations at Marriott's Maui Ocean Club. The original structure of the resort is a converted hotel that offers one and two-bedroom suites that include separate living & dining areas, a gourmet center with mini-refrigerator, sink and dishwasher, and TVs with DVD players. The private balconies offer scenic views and stunning sunsets, and are perfect for whale watching in the winter.
(If you are looking for a unit with a full kitchen check out Marriott's Maui Ocean Club Lahaina Villas.)
The superpool – it covers 3.5 acres – has lush tropical landscaping, a waterslide, and beautiful waterfalls. The children's play area has its own sandy "beach," and a waterslide off a fun pirate ship. The poolside bar is a great place to rest and relax while keeping an eye on the kids. The Maui Ocean Club also offers amenities such as a barbecue area, arcade game room, and top-rated restaurants.
Here are what two reviews say:
"My husband and I have owned a timeshare at the Maui Ocean Club for 6 years and have gone each year. We ALWAYS have received excellent friendly service and have had extremely clean rooms. They actually clean the carpet after each checkout and when you request extra pillows, towels, etc., Housekeeping calls within 30 minutes to see if you have received the requested items. The grounds are immaculate with leaves being picked up each morning. The famed Marriott bedding is very luxurious. As you can tell, we love the place and look forward to going back each year."
"Having purchased 2 weeks (one via RedWeek), my wife and I are extremely satisfied. The grounds are impeccably landscaped and maintained (if you get up early enough you can see workers sweeping sidewalks, cleaning chairs, picking up cigarette butts EVERYDAY). The resort is well situated (along the Kaanapali beach strip) and within walking distance to Whaler's village. The pools and slides are a great way to enjoy yourself. This has to be one of the better maintained resorts in a good location (hence, their occupancy rate and their "owner return" rate is pretty high)!"
Categorized in: Marriott's Maui Ocean Club, Marriotts Maui Ocean Club Lahaina Villas, maui timeshares, timeshare rentals