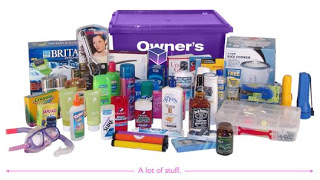 Owner's Locker – "The Purple Place to Store Your Vacation Stuff" – is joining with Disney Vacation Club to make your timeshare vacation even easier and more fun.
"I am very pleased to announce that we have signed a strategic agreement with Disney Vacation Club where they will market Owner's Locker to DVC Members," said John Van Meter, Owner's Locker co-founder. "Now every DVC Member is going to learn what our members already know – that Owner's Locker can take "welcome home" to a new level."
DVC's marketing efforts began on May 6, 2011, by listing Owner's Locker (OL) as a new "perk" on www.dvcmember.com. Owner's Locker will also show up soon in the Portable Perks brochure, being included in every check-in package at each Orlando DVC resort.
An article about OL will appear in the August Disney Files quarterly magazine mailed to all DVC Members and the two companies are working to spread the word about OL in other ways such as using Facebook, and participating in Welcome Home Wednesdays.
OL members are accustomed to seeing a purple van on runs throughout the day to various Orlando resorts. When you schedule a visit to a DVC resort in Orlando, you'll be giving Owner's Locker your estimated arrival time and departure time.
"As we have grown," said Van Meter, "we've learned that it just doesn't make sense for there to be a delivery run in the morning and a pickup run in the afternoon. The purple van will be on the road most of the day and night, sometimes stopping at the same resort several times during the day."
Just what is Owner's Locker? "It is a company whose mission is to provide a dependable and convenient on-demand storage service to frequent visitors and vacation club owners, allowing members to fully experience their vacation club as a second home."
This is done by providing "lockers" which are large purple tubs with dividers and smaller organizers. In your "locker" you can store things that you frequently need at your timeshare, but don't want to have to pack in and out every time.
OL members have stored such diverse things as a cappuccino machine, pancake syrup, cooking spices, crayons and games for the kids, sunscreen, rubber bands, Q-tips, and clips for open potato chip bags. In other words, you can store all of the miscellany that you need to spend a week in a timeshare, and have it readily available the next time you visit – no packing, no fuss, no bother. And now Disney timeshare owners members can join in the fun!
Categorized in: Disney timeshare, Disney Vacation Club, DVC, owners locker, timeshare vacation