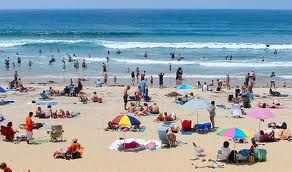 Memorial Day weekend is the unofficial Official start of Summer. The long winter is behind us and a summer of sun and fun stretches out ahead. What better place to celebrate Memorial Day and kick off summer vacationing than at the beach! And there's no better stretch of beautiful coastline than San Diego, California.
Rent a San Diego timeshare – and – Welcome to the Beach!
The San Diego Convention & Visitors Bureau describes it this way: The beach is more than a boundary dividing land from sea, more than a place to swim or sunbathe. In San Diego, the beach is a way of life, a source of pride and joy, a defining influence in people's lives. Whether you're a first-time visitor or a frequent San Diego vacationer, we hope you have a memorable and carefree time enjoying our beaches.
There over 20 major beaches in the greater San Diego area. They are all types, and offer something for everyone.
The Silver Strand State Beach is a long slip of land with water on both sides – the Pacific Ocean on one and the San Diego Harbor on the other. This beach is popular with families with youngsters because of the relatively shallow and calm waters.
The Coronado Beach is listed by Travel Magazine as one of the most popular beaches in the entire country, and it's no wonder. Coronado Beach South is one of the widest beaches in San Diego County, and Coronado Beach North is excellent for surfers, popular for volleyball, and here dogs are allowed to run free.

Carlsbad State Beach is popular for volleyball, Frisbee, board and body surfing, and offers picnic areas and fishing.
Imperial Beach is the southernmost beach in San Diego County, next to the Mexican border. It's best known for the U.S. Open Sandcastle Competition, and major surfing competitions are also held here.
Ocean Beach North is where to head if you're looking for some serious beach volleyball action, and next-door Pacific Beach offers a wide sandy beach, a boardwalk, bicycling and roller-skating.
Seascape Beach in Del Mar is popular with the Del Mar horse race crowd, and often you'll see the beautiful thoroughbred racehorses being exercised through the surf.
Fletcher Cove has cliffline access only, but is popular with beachcombers and shell collectors.
As you can see, San Diego beaches are the perfect Memorial Day beach destination. Some are beautiful State beaches that require a fee (but only minimal, such as $6 for parking), some allow dogs, some are scattered with fire-rings for night time fun, some are great for kite-flying, and all are perfect for relaxing with loved ones while watching a spectacular Memorial Day sunset.
Photo Credit top: dguides.com
Categorized in: beach travel, Memorial Day travel, San Diego timeshares