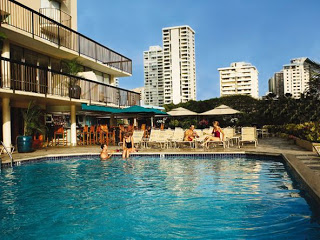 Hilton Grand Vacations (HGV) and Outrigger Enterprises Group has announced that HGV has acquired from Outrigger the OHANA Islander Waikiki Hotel in Honolulu, Hawaii.
HGV plans to transform the hotel into Hilton Grand Vacations Club – Waikiki Beach Walk – an upscale urban timeshare resort. HGV will manage the sales and marketing of timeshare intervals and will also oversee the timeshare homeowners' association management. Outrigger will provide comprehensive onsite property management services.
Anchoring the northernmost stretch of Outrigger's celebrated Waikiki Beach Walk development, the new Hilton Grand Vacations Club will offer immediate access to Waikiki's most vibrant showcase and gathering place for dining, shopping and entertainment.
Following a dramatic renovation, the resort is slated to welcome its first guests in summer 2013, offering 143 luxurious one-bedroom vacation ownership suites and an array of upscale amenities.
According to Mark Wang, president of Hilton Grand Vacations, "We are excited to build upon the tremendous success of our three Hilton Grand Vacations Club locations at Hilton Hawaiian Village Beach Resort & Spa. Outrigger's Waikiki Beach Walk development offers an ideal new venue for the expansion of our brand on Oahu, and we're eager to transform the OHANA Islander Waikiki Hotel into a sophisticated urban Club property.
"We are confident that our collaboration with Outrigger Enterprises Group will provide a tremendous vacation experience for our timeshare owners and guests. Our reputation for delivering extraordinary ownership options in renowned destinations will be further strengthened by this distinctive project," concluded Wang.
"Our new relationship with Hilton Grand Vacations fits perfectly within our 'Many Brands, One Ohana (Family)' strategy of managing not only our proprietary Outrigger and OHANA brands but other brands as well," said Mel Kaneshige, Executive Vice President Real Estate and Development for Outrigger. "With this transaction, Outrigger will now be managing hospitality properties for four of the top five global brands."
Interval sales of Hilton Grand Vacations Club – Waikiki Beach Walk are anticipated to begin in the summer of 2012. Hilton Grand Vacations Club – Waikiki Beach Walk will debut as the seventh Hilton Grand Vacations Club affiliated resort in Hawaii; in addition to three thriving locations at Hilton Hawaiian Village Beach Resort & Spa, HGV operates three renowned resorts on the Big Island of Hawaii.
Hilton Grand Vacations Company, LLC, is a division of Hilton Worldwide, recognized as the leading global hospitality company. Headquartered in Orlando, Florida, Hilton Grand Vacations develops, markets and operates a system of brand name, high-quality vacation ownership resorts in select vacation destinations.
(Photo Credit – ohanahotelsoahu.com)
Categorized in: Hilton Grand Vacations, Hilton Hawaiian Village, OHANA Islander Waikiki, timeshare intervals