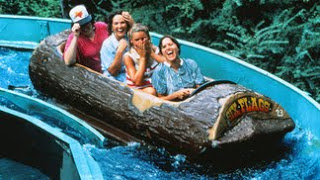 Things are heating up. Warm temperatures are pushing their way across the country, the days are getting longer, and it's all adding up to what else? Summer! That means it's time to start that timeshare summer vacation planning. And here's an idea – Six Flags!
2011 marks the 50th Anniversary of the original Six Flags theme park – Six Flags Over Texas. And to celebrate, all of the Six Flags parks will be offering special fun this summer.
Texas oilman Angus Wynne opened the first Six Flags theme park in 1961 with 105 acres and a handful of rides. The original park has now grown to 212 acres and over 100 exciting rides, and the company, Six Flags Entertainment Corporation, is the world's largest amusement park business based on quantity of properties. The company maintains 14 properties located throughout North America, including Montreal, Canada, and Mexico City.
Six Flags Over Texas in Arlington is not only the original Six Flags Theme Park but is also the home of many firsts including the first log flume ride, El Aserradero, in 1963, and the first roller coaster with consecutive loops, the Shock Wave, in 1978.
There are great timeshare rentals available near many Six Flags parks.
Here are some examples:
Texas
Rent a San Antonio timeshare and visit Six Flags Fiesta Texas. Among its great thrill machines, this park features Superman: Krypton Coaster, the largest steel coaster in the Southwest, and Poltergeist, which launches riders from 0-60 mph in the ride's first 3 seconds.
California
Rent a San Francisco timeshare and head to Six Flags Discovery Kingdom in nearby Vallejo. Besides wild rides such as the launched coaster, V2: Vertical Velocity, this park also has interactive animal exhibits and a train-themed children's show Thomas and Friends.

When you rent a Southern California timeshare you can visit Six Flags Magic Mountain in Valencia, outside Los Angeles. The biggest and badest of the Six Flags chain, this park's own description says, "Originally, the park's theme had something to do with cute gnomes that lived in a Magic Mountain. After Six Flags came on the scene, it threw out the gnomes, pumped up the testosterone, and created what it has dubbed the "Xtreme" park. Six Flags Magic Mountain now has one of the world's largest–and white-knuckle-inducing–arsenals of coasters."

Washington, D.C.
Rent a Washington, D.C., area timeshare in Alexandria, VA or Fort Washington, MD, and head to Six Flags America, just a 15 minute drive from our Nation's Capital. The 200-foot Superman: Ride of Steel hypercoaster features an adrenaline-pumping 198-foot first drop. Zoomazon Falls is an Amazon rainforest themed attraction at Hurricane Harbor, the water park that is included with admission to Six Flags America, and the largest waterpark in the D.C. area.
No matter which Six Flags park you choose, your timeshare rental vacation is sure to be sizzling with fun this summer.
(Photo Credit – sixflags.com)
Categorized in: San Antonio timeshare, San Francisco timeshare, southern California timeshare, summer vacation, timeshare rental