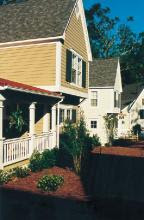 If you're planning a vacation to the Colonial Williamsburg area of Virginia, consider a timeshare rental at The Cottages of King's Creek Plantation. Here you'll experience staying in a timeshare with a bit of a twist. These are cottages, with white picket fences and grass yards. Along with hardwood floors, intimate fireplaces, and cathedral ceilings this resort accentuates the romantic colonial feel so appropriate for the Historic Triangle.
The first floor of the 1,800 sq. ft. cottage contains the master suite, the dining room, a full sized kitchen, and living room. The living room features a big screen television and VCR, with additional televisions in each of the bedrooms. The master suite offers its own kitchenette, a private patio, sitting room, and Jacuzzi in the master bath. Each unit is also equipped with a washer and dryer.
The Cottages of King's Creek Plantation are perfectly located for venturing into historic Colonial Williamsburg, Jamestown, or Yorktown, or seeking fun-filled excitement at attractions such as Busch Gardens or Water Country USA.
Timeshare rentals at this resort start at just $100/night for a 2 bedroom, 2.5 bath unit.
Reviewers say this:
"The King's Creek's separate cottages are the ideal situation for traveling with another family – privacy, loads of room and great location. We have stayed here many times before finally purchasing one. I have had nothing but great comments from my renters on the years that we couldn't go."
"This is the nicest place we've exchanged our timeshare for!! It felt like a home away from home. The cottages are very spacious. It was also great to have a separate level with a living room, so the kids could sleep while we watched TV or a movie at night. Everything we wanted to do was very close by. Water Country is right next door, Busch Gardens is 1 mile away, a large outlet shopping mall is 20 minutes away, and Colonial Williamsburg is just 15 minutes away. Everyone was very helpful and kind, the staff is very friendly."
See Timeshares Available at Kings Creek Plantation
Categorized in: King's Creek Plantation, timeshare rental, Virginia timeshares