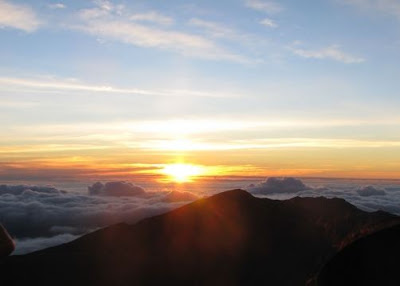 If your dad likes to be active, then the perfect Father's Day gift is to rent a timeshare for him on Maui, where he can be active to his heart's content.
For starters, there's the exciting Sunrise Tours of Haleakala (see photo), offered by Haleakala Bike Company ("Home of the original Freestyle Haleakala downhill!") among other choices. If Dad joins a Haleakala bike tour, he'll arrive at the 10,023-ft summit of the dormant volcano in time to watch the spectacular sunrise, what Mark Twain described as "The sublimest spectacle I ever witnessed." And then comes the amazing bike ride down – Dad will drop 3000 feet in 10 miles and negotiate 29 switchbacks. Hopefully he'll remember to stop once in awhile to take in the incredible views – of Maui surrounded by the dazzling multi-hued blues of the Pacific Ocean – as he passes by protea farms and wineries and paniolo (cowboy) country.
After Dad catches his breath he can step up the excitement of his active Maui vacation by soaring above Maui's lush tropical landscape in a hang-glider. This idea isn't as outrageous as it seems. "Hang Gliding Maui" offers everyone a chance to experience this special thrill by riding on a powered tandem hang glider out of Hana airport.
If hang gliding isn't enough excitement, Dad can head to "Skyview Soaring" and add a soaring glider ride to his adventures. He and his glider pilot will be pulled back up above Haleakala. From there he'll experience an incredible 45 minutes of soaring and gliding as they make their way back down to the Hana airport.
And, perhaps Dad would enjoy the Hana Cave Tours which offer a fun experience exploring deep into the subterranean passages of an extinct lava tube. As Dad clambers across a cinder trail, under stalactites and around stalagmites (hand-rails are provided), he'll be seeing first-hand, and from the inside out, the last minutes of a lava flow before it was frozen in time.
Or how about a good hike? Above the Pools of O'heo (where Dad can swim and even "cliff" dive), in Haleakala National Park, is the Pipiwai Trail, considered one of the best hikes on Maui. It's 4 miles roundtrip and gains 650-feet in elevation. There are several great waterfalls along the route, with the final destination being the Waimoku Falls that spectacularly plunges 400-feet down a sheer lava rock wall.
Did Dad think the only thing to do in Hawaii was to spend lazy days on the beach?
(Photo credit – viator.com)
Categorized in: father's day travel, Maui time share, Maui timeshare rentals, rent a time share, rent a timeshare