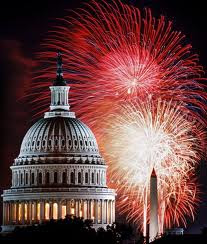 The Fourth of July is all about patriotism, and what better place to be patriotic than in our Nation's Capital? Washington, DC, is the definitive spot for celebrating America's Independence and annual birthday bash.
Washington DC's Fourth of July celebration begins in the morning and goes to well after dark. When you rent a timeshare at Wyndham's Old Town Alexandria or at the Wyndham Vacation Resorts National Harbor you'll have a great home base from which to enjoy America's party from start to finish.
The entire family will enjoy beginning the day with Washington, DC's Independence Day Parade, down Constitution Avenue along the National Mall. You'll be getting those patriotic goosebumps as you watch the marching bands and specialty military units, along with floats and even VIPs.
4th of July at the National Archives is especially stirring as this institution holds a special birthday party of its own. Celebrating the signing of the Declaration of Independence with special family programming, you'll enjoy patriotic music, a dramatic reading of the Declaration by historical reenactors, and other free family activities and entertainment.
The White House even gets in on the party with the White House Visitor Center offering games, crafts and other family-friendly activities. The National Park Service rangers and volunteer reinactors help bring alive the time of the signing of the Declaration of Independence with the sights and sounds of yesteryear.
In the evening you can choose from two great concerts. The Concert on the Washington Monument Grounds includes the U.S. Navy Concert Band, the Sea Chanters chorus, and the Cruisers, the Navy's "rock and top-40" ensemble.
A Capitol Fourth Concert is the 4th of July tradition that includes a live concert by the National Symphony Orchestra, and several pop artists performing patriotic music on the West Lawn of the U.S. Capitol Building.
And, of course, the 4th of July Fireworks on the National Mall is the exciting finale to this fun-filled holiday. The fireworks are launched from the Lincoln Memorial Reflecting Pool and light up the sky over the Washington Monument.
(Photo credit – adventure-crew.com)
Categorized in: July 4th, timeshare vacation, Wyndham Vacation Resorts National Harbor, Wyndham's Old Town Alexandria