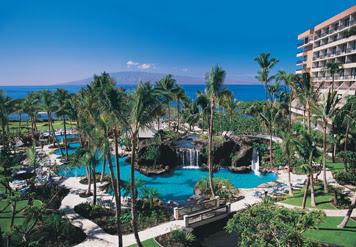 Have you "Been There, Done That" with exotic summer vacation spots such as Hawaii and the Caribbean? If you're looking for another exotic timeshare rental vacation destination that's a bit different, head to the Costa del Sol, and Marriott's Marbella Beach Resort.
"A masterpiece in elegant design," says Marriott, "our Marbella Beach Resort is bordered by miles of golden beaches, exotic architecture, and luxurious style. Here you can indulge in beach front dining, rejuvenating spa treatments, and extravagant nightlife."
The Marbella Beach Resort is located at the heart of the Costa del Sol, and reflects the age-old traditions and enduring romance of Southern Spain and the Mediterranean seaside.
This beachfront resort boasts one-, two-, and three-bedroom timeshare units, combining Andalucian mood and color with modern convenience. As a guest you'll enjoy the excellent facilities, including a private terrace, air conditioning, satellite television, DVD player and stereo, whirlpool tub, fully equipped kitchen, and utility room. On-site there are 5 swimming pools, saunas, a gymnasium, a kids club, a fun court, steam rooms, restaurants and bars, together with a range of other leisure pursuits, including golf.
The Costa del Sol is all about the mystique of Southern Spain, a world of flashing flamenco dancers, and golden beaches splashed by the sunny Mediterranean Sea. You'll find plenty to do to keep everyone in the family happily busy.
The sunny, mild climate makes it a pleasure to pursue outdoor activities. Day trips into the Spanish countryside include hiking, horseback riding, and even a river adventure. For the golfers in your family there are numerous courses, ranging from easy to world-class, some the finest in Europe.
You'll be humming Spanish tunes when you take sightseeing tours that include the grandeur of Alhambra in Granada, a "true architectural beauty" that has inspired composers and artists over the ages, and charming Seville, the financial capital and cultural center of southern Spain, where you can tour one of the largest cathedrals in the world.
Timeshare rentals at Marriott's Marbella Beach Resort currently start at just $182/night – pretty good for an exotic vacation on the Mediterranean. If you're interested in more permanent Costa del Sol vacation plans, Marbella timeshare resales start at just $2,800.
Categorized in: Marriott Marbella Beach Resort, Spain timeshares, timeshare rentals, timeshare resales