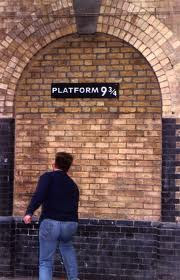 Just in time for the opening today (July 15, 2011) of the hugely anticipated final installment of the Harry Potter movies, "Harry Potter and the Deathly Hallows, Part 2," comes the announcement by Warner Bros. Studios of "Studio Tour London – The Making of Harry Potter."
This unique 3-hour walking tour gives you not only the chance to go behind the scenes of the filming of one of the most successful movie series of all time, but also another good excuse to rent a timeshare and head to London.
Warner Bros. Studio Tour London – The Making of Harry Potter will open in the Spring of 2012 at Warner Bros. Studios Leavesden, the production home of the Harry Potter films for over ten years.
Leavesden, just 25 miles north of London, is where you'll be able to walk onto some of the most incredible sets of the Harry Potter films, including the magnificent Great Hall and Dumbledore's office. You'll be interacting with the authentic sets, costumes, animatronics, props and effects from all eight movies.
Karen Clarkson, VP North America VisitBritain said, "The Harry Potter series has captured imaginations around the globe for almost a decade now and we're thrilled that the magic will live on with the Warner Bros. tour."
The Warner Bros. 3 hour tour is sure to wet your appetite for all things Harry Potter, and Great Britain has more places where you can check out scenes that were filmed on location around the country.
For example, London's steel suspension Millennium Bridge was the setting for the dramatic opening scene of Harry Potter and the Half-Blood Prince. And the enchanted Platform 9-3/4 is at King's Cross Station, London (see above photo), where you can actually attempt to enter this secret portal to Harry Potter's wizarding world, by trying your hand at pushing a trolley through the brick wall between platforms 9 and 10.
Taking the train is an easy way to see other Harry Potter film locations, such as Christchurch College, Oxford, just 55 miles from London. This famous university hosted some scenes for Hogwart's moving staircases and Dining Hall. Hogwarts hospital can be found in Oxford's Divinity School, and the university's circular Bodleian Library is another location used in the films.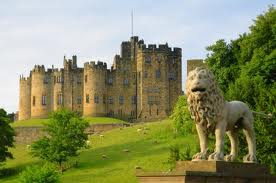 A fun full-day train trip from London (don't worry – you'll be home in time for dinner) will take you to northern England and a tour of the Ainwick Castle in Northumberland (see photo at left). Here both interior and exterior shots for Hogwarts were filmed for the first two Harry Potter movies (including the flying broomstick scenes). This historic castle is worthy of a tour in its own right. The dramatic fortress is the second largest inhabited castle in England, and has been the home of the Earls and Dukes of Northumberland since 1309. How's that for a fantastic London timeshare vacation?
(1st Photo credit – plumgreen.com. 2nd Photo credit – fodors.com)
Categorized in: Harry Potter opens July 15, london timeshare, timeshare travel