Will wonders never cease! Soon, when you are planning your timeshare vacation, you'll be able to take virtual 3-D video tours of your vacation destination.
The following article was written by Karen Rubin and is reprinted by permission.
3-D technology could be on the verge of changing the way travelers prepare for trips. A new travel website, 3rd Planet, is in the process of creating an interface that will not only provide information about a given place, but give travelers the ability to fly around a detailed 3-D model of their destination.
The 3-D technology will give provide a realistic look at the most popular sites in a country with built-to-scale reconstructions of actual places within famous destinations.
The site "maximizes their time at the destination, as they know which historically significant attractions to focus on, where the sites are located relative to one another, and where to explore next," said Singaporean entrepreneur Terence Mak, Chief Executive of 3rd Planet and the creative mind behind the website. "It will give travelers a chance to preview a city and make their plans on what they will do and where they will go once they get there.
"We live in a 3-D world," he said.
The company's future plans include incorporating flight routes and real weather patterns into a virtual globe along with interior views of buildings. "It's a whole new era," Mak said. 3rd Planet is expected to launch later this year and will feature Nepal as its first destination. Multi-dimensional maps of 6 or 7 other countries are in the works.
The company works with national tourism organizations to build 3-D replicas of destinations. 3rd Planet is also working with tourism boards, hotels, shopping malls, airlines, and other attractions to make 3-D reconstructions.
The site is free to the users; partners who wish to have their location "virtualized" on the site are charged a fee depending on the structure's complexity and the amount of complementary content to be included.
"Using our platform, users can navigate through an overview scene to get a big picture of where is what relative to a location and decide on how to bhttp://www.blogger.com/img/blank.gifest use the time they have to explore the location. We also have an explorer capability which will allow the user to explore through some parts of the location in high detail," Mak said.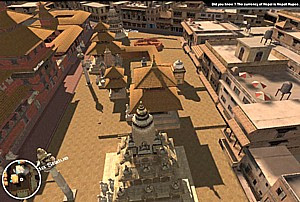 3rdplanet.com is set to launch 3-D technology that will give travelers a virtual tour of the destination they want to visit. (photo provided by 3rd Planet).
Karen Rubin is a travel writer who has been spanning the globe for more than 30 years . She publishes Travel Features Syndicate at Travel Writers Magazine, and blogs at Places Near and Far.
Original article published on examiner.com.
© 2011 Travel Features Syndicate, a division of Workstyles, Inc. All rights reserved
Categorized in: 3-D tec hnology, Timeshare Destinations, vacation