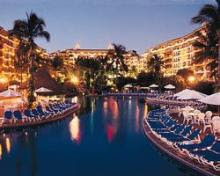 Have you been considering a timeshare rental vacation to Puerto Vallarta, but are concerned about the U.S. State Department's continued warnings about travel to Mexico?
The Puerto Vallarta Tourism Board appointed the U.S. firm of Thomas Dale & Associates (TDA) to study the safety standards found in Puerto Vallarta. The report, which was published last month, concludes that Puerto Vallarta continues to be among the safest beach vacation destinations in Mexico.
Puerto Vallarta is an annual vacation destination for millions of visitors from around the world. TDA is a leading global investigative and security firm that lists several Fortune 100 companies among its clients.
The international security company visited the destination to conduct interviews and a through security and safety risk assessment on the ground. It has now published a comprehensive report in relation to all aspects of tourist security in the destination. In it, the firm concludes that Puerto Vallarta is one of the safest tourist destinations for international and national tourists.
TDA individually interviewed domestic as well as international tourists, American and Canadian Consuls, retired ex-patriots, timeshare members, part-time residents, seasonal boaters, business owners, hospital administrators, gay community business representatives, health insurance professionals, cabbies, conventioneers, and honeymooners.
These interviews were followed up by requests to local law enforcement sources for crime data and department deployment. The Civil Protection Department (FIMA) was also consulted regarding natural disasters.
The interviews focused on the following three areas; safety in Puerto Vallarta and the perception of its visitors; personal experiences and the US Travel Warning on Mexico.
The study found that the number of negative events involving foreigners or non-foreigners is fractional compared to the large ex-patriot resident population and the millions of visitors that come to vacation each year in Puerto Vallarta.
Overall the study found that visitors to the destination feel safe and continue to visit Puerto Vallarta numerous times through their lifetime and that the destination's support services are well above the average standards and dedicated to serving the visiting public. In relation to the drug wars, TDA found that the limited land transit makes the smuggling of guns and drugs through Puerto Vallarta very difficult and thus basically a non-issue in the destination.
There are many great Puerto Vallarta timeshare rentals where you can vacation at beautiful resorts. For example, check out the beachfront Club Velas Vallarta (see top photo) with its beautiful palm-laced gardens. You can rent an all-inclusive program timeshare here starting at just $114/night.


Or you can choose Club Regina Puerto Vallarta at Westin (see photo to right) which currently has timeshare rentals for as low as $100/night. This beachfront resort is located on an old coconut plantation, and is just 15 minutes from downtown. You can enjoy free-form swimming pools, and planned activities including watersports.
Categorized in: beach vacation, Mexico timeshare, Puerto Vallarta timeshares, U.S. State Department, warnings