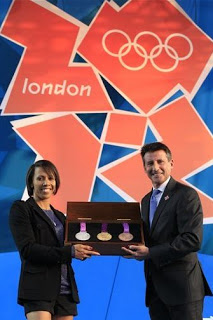 The Olympics are on their way! Today (Wednesday, July 27, 2011) marks the One-Year Countdown to the opening ceremonies for the 2011 Summer Olympics, to be held in London, England. You just have a year to get your timeshare rental ducks in a row, and make your travel plans.
London Mayor Boris Johnson is proud to announce that the venue construction is largely completed.
The London Olympics will feature 32 venues covering 26 different sports. Over 10,500 athletes from more than 20 countries will be competing. Coming with them will be 5,000 coaches and team officials, not to mention 20,000 media personnel. And that doesn't count the hundreds of thousands of visitors.
The London 2012 Games are the catalyst for transforming 2.5sq km of land in east London, and area that was once industrial, contaminated land, into the beautiful Olympic Park. The Olympic Park will create a green backdrop for the Games and a new green space after 2012, for people and wildlife to enjoy.
During the Games (July 27 – August 12, 2011) 12,000 police officers will be on duty each day, working with a budget of 475 million pounds ($770 million).
"We're very good at policing in a friendly and a discrete way," organizing committee leader Sebastian Coe told AP Sports Writer Stephen Wilson. "The real challenge is to maintain security to protect the athletes, protect people, protect assets, but at the same time having people leaving your city feeling they haven't been pushed from pillar to post."
So what remains to be done before the Games begin? Not much. The stadium track will be installed, the landscaping and other finishing touches will be made to the Olympic Village, on the edge of Olympic Park, and last-minute "dressing" of the venues will be completed.
While over 3.5 million tickets have already been sold, tickets are still available for wrestling, volleyball, and even soccer.
London is kicking off the One-Year Countdown on Wednesday with a ceremony in Trafalgar Square where IOC President Jacques Rogge will formally invite the world's athletes to the Games. During this ceremony the organizers will also unveil the design of the 2011 Summer Olympics medals. Over in Olympic Park diver Tom Dailey, who represented Great Britain at the 2008 Summer Olympics when he was only 14, will take the ceremonial first dive into the Olympic pool.
Mayor Johnson, excited about the London Olympics' opening ceremony, which is being created by "Slumdog Millionaire" director Danny Boyle, says, "Wait till you see that opening ceremony. I think you will be weeping tears of joy after that opening ceremony. That's my confident prediction."
Take a look at timeshare rentals in England, and timeshare rentals in nearby Paris (only 2 hours to the London Olympics by EuroStar).
(Photo credit – signonsandiego.com)
Categorized in: London Summer Olympics, london timeshare, paris timeshare, timeshare rental, timeshare travel