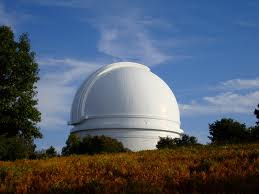 With the last shuttle, Atlantis, on its final journey into space, there's a lot of talk about the next generation of space travel – for tourists. While it may be a few years before timeshare resorts orbit throughout the solar system, there are plenty of earth-bound places where you can get your space fix while you're waiting.
Lonely Planet has put together a list, and the following four are where you can not only immerse yourself in space exploration, but enjoy a great timeshare rental vacation while you're at it.
Palomar Observatory, San Diego, CA (see top photo). An easy hour's drive from your San Diego timeshare rental, the Palomar Observatory has been making exciting discoveries since 1949. The 200-inch Hale Telescope, the largest in the world at that time, was the first to discover direct evidence of stars in distant galaxies, and the distant objects at the edges of the known universe we now call quasars.

The spectacular observatory building, as large as Rome's Pantheon, is open daily for public tours.

Kennedy Space Center, Cape Canaveral, FL. Rent a timeshare in nearby Orlando or Daytona Beach, and enjoy your exploration of the "granddaddy of all space facilities." This is where all of the launches for the Mercury, Gemini, and Apollo programs were conducted, as well as the space shuttles.

You'll have an adventure here about as close as you need to get before blasting into space yourself one of these years. From "going ballistic" on your own shuttle launch experience to meeting a veteran astronaut, this is a must-do for any space aficionado.

Arecibo Radio Telescope, Puerto Rico. Who knew? When you rent a timeshare in beautiful Puerto Rico, and enjoy tropical beaches and wild Salsa nightlife, you can also indulge in a bit of space worship. The Arecibo Observatory houses the world's largest radio telescope, composed of 40,000 perforated aluminum panels embedded into the surrounding jungle.

This telescope was featured in the films "GoldenEye" and "Contact." The observation platform is open to the public, for a view of this "out-of-this-world" structure that is considered a work of art by many.

Spaceport America, New Mexico (see photo below). Outside Las Cruces, this is where the true beginning of space travel's next phase will be launched. This is the headquarters for Virgin Galactic, and where its spaceflights will blast tourists into orbit (planned to start in just a couple of years).
Meanwhile, you can rent a timeshare in Riodoso, and take a drive (just under an hour and a half) to Spaceport America, where you can take a fun and educational 3-hour tour. And while you're at it, be sure to jump over to Roswell, just an hour from Riodoso – could this be where we earthlings really began our fascination with space travel? You decide.
Read Lonely Planet's article in its entirety.
(Photo credit (top) – friendsoftheobservatory.org, (center) – virgingalactic.com)
Categorized in: Daytona Beach timeshare, Kenedy Space Center, Orlando timeshare, Palomar Observatory, Puerto Rico Timeshare, Ruidoso, San Diego timeshares, shuttle Atlantis, Spaceport America